Board to discuss goals next month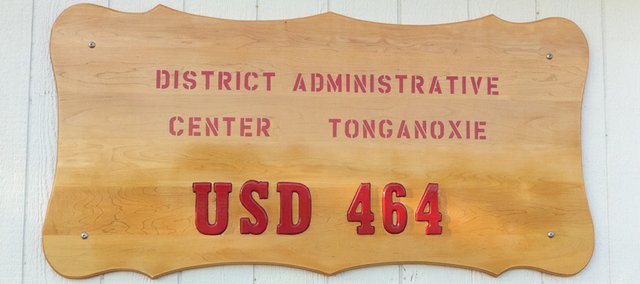 The Tonganoxie school board will meet next month to discuss goals, three of which are to address the possibility of a virtual school, bullying and facilities.
The board voted to have a study session at 6 p.m. Tuesday, Nov. 1.
Board president Diane Truesdell said she wanted to explore the possibilities of a virtual school, a topic about which Tonganoxie High School principal Jamie Carlisle presented at an earlier meeting.
Board member Gene Becker said he was opposed to a virtual school, as the Leavenworth school district recently discontinued its virtual school because it was negatively affecting the district's adequate yearly progress status. Board member Kay Smith, who is a teacher in the Leavenworth district, said discontinuing the school cost that district $200,000.
USD 464 Superintendent Randy Weseman said the board's goal might be to "explore the parameters" of a virtual school.
He told the board members they shouldn't "back away just because you've seen problems."
Board member Kathy Baragary asked that the climate of bullying within the district be addressed during the session, while Becker wanted to discuss the future of facilities, specifically the elementary school.
Re-opened bridges aid routes
Bridges over County Road 25 and 238th Street reopened in September, which allowed three buses in the southern portion of the district to resume their normal routes to school, according to this month's transportation report from transportation director Melissa Ostermeyer.
Weseman shared information from the transportation report at Monday's meeting.
Transportation numbers for this school year:
• 596 students riding who live more than 2.5 miles from their attendance center.
• 11 out-of-district students.
• 48 pay-to-ride students.
• 112 pay-to-ride students who qualify for free/reduced lunches. Those students do not pay to ride.
• 22 special needs students.
National School Bus Safety Week starts Monday, and Tuesday is bus driver appreciation day in USD 464. Breakfast will be served to bus drivers at 8:30 a.m. at Myers Hotel.
Technology report
Weseman is looking at more efficiency with IT assistance throughout the district.
The superintendent spoke of cutting down on "windshield time" in the district, as the IT staff of two employees spends substantial time bouncing among buildings to address issues.
He said the IT department needed to address all of the issues that come up in the district, but Weseman is looking at streamlining those calls. For instance, the IT department might work on staff's computer issues in one building on a specific day, which would cut down on bouncing back and forth from the various buildings.
In other business, the board:
• Heard from Tonya Phillips, the district's director of educational programs, about a Thursday, Oct. 20, professional development day for teachers. Coventry will have a health fair from 7:30-11:30 a.m. that day. Staff and board members, as well as spouses, can attend. At the health fair, those in attendance will be checked for their levels of cholesterol, triglycerides and glucose, as well as blood pressure/pulse, height/weight for body mass index and waist circumference.
Those insured with Coventry and some other insurance companies can have the tests administered for free. People with insurance providers who do not qualify for free testing can pay $24. Also on that day, faculty will start to look at common course standards, Phillips said.
• Met in executive session for 10 minutes to discuss non-elected personnel. Weseman was invited into the closed-door session. After the executive session, the board voted, 7-0, to approve its consent agenda, including the first reading of board policy sections B and C. There were no hires or resignations.