Police contemplating updated officer garb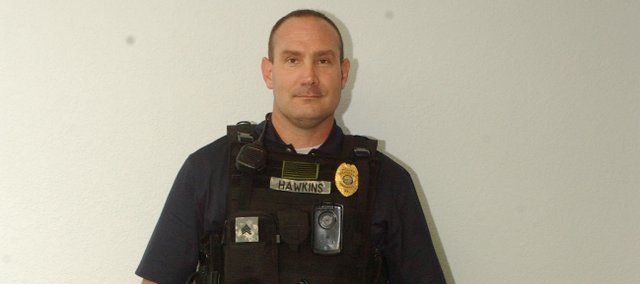 The Tonganoxie Police Department is trying out a new look.
Police Chief Jeff Brandau said the department was sampling uniforms that have a tactical appearance. The new look was to be shared with the Tonganoxie City Council, but Monday's meeting was canceled.
Brandau said the department was looking for feedback from the council and the general public. He also wants residents to get accustomed to the new uniforms so they don't get alarmed with the uniforms, which do have the appearance associated with those worn by SWAT teams and other tactical units.
But Brandau said there was thought behind the uniforms.
"This came from the guys," the chief said of the police officers on the department. "They did all the research. They made the selections. They worked up the pricing."
And cost is one advantage of the sampled uniforms. Outfitting an officer with three of the sampled uniforms would cost $835, compared to $1,260 for three of the department's current uniforms. The cost to replace one uniform per officer annually would be reduced from $574 to $300.
Much of the savings are realized in the shirts and pants. The sampled uniforms replace traditional collared shirts with polo shirts in summer and mock turtlenecks in winter.
Sgt. Steve Hawkins, who was wearing the sample uniform to model for the council, said the appeal to officers was the increased comfort the uniforms afforded. One significant change was transferring much of the 36 to 37 pounds of gear officers carry from duty belts to pockets and clips on external vests, which offer more protection than undershirt vests and can be removed when officers are inside the station.
"I like it better," Hawkins said. "It takes a lot of pressure off the hips and lower back. You don't have to hold onto everything when you are running or chasing after somebody.
"It's a little more comfortable and easier to get in and out of. If you work an accident for a couple of hours and come back to the station to write a report, you can peel this off and feel a lot better."
In a report to the council, Brandau wrote that one of the most common work-related injuries for police officers was lower back strain from carrying weight on the officer duty belt.
The chief also wrote that a $4,974 grant the department received in September would pay for half the cost of the new vests.
With those advantages, the new look is catching on with other departments, Hawkins said. Three or four departments in Johnson County have adopted similar uniforms, and they are catching on in the West, he said.