TMS

8th grade volleyball takes 3rd at

KVL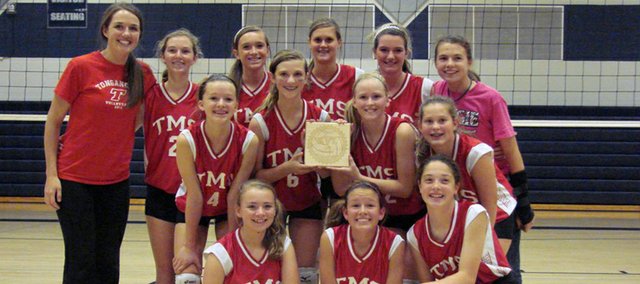 Tonganoxie Middle School's eighth-grade volleyball team wasn't expected to do much Saturday at the Kaw Valley League Tournament at Monticello Trails, in Shawnee.
Well, at least no one outside of the team had expectations for the tournament's No. 7 seed.
The Warriors had other ideas, however, and took third place.
TMS coach Erin Bates gave the players a lot of credit for the team's successful showing.
"I'm so proud of these girls for their hard work this season," Bates said. "I couldn't have asked for a better group of girls to take third place at the KVL tournament."
Tonganoxie (8-10), Bates pointed out, didn't finish the season with a winning record. But she said the team accomplished much, especially on its final day of the season.
"We had huge wins over Lansing, Clark and Monticello Trails during the KVL tournament and even took a set from Basehor-Linwood," the coach noted.
Bates said she first got to know the players on the team when she had them in the classroom her first year of teaching at TMS, and she was excited to finally coach them this year.
Statistically, Bates said Cheyenne Ford and Halley Calovich led Tonganoxie in kills this season, while Emma DeMaranville, Taya Freeman, and Brooke Bolon "dominated" on defense and Kassi Gratton frequently served up aces for the team.
Bates said the Warriors' setters, Lauren Jackson and Kaitlin Hall, were team leaders and "showed a lot of sportsmanship" for TMS. Mackenzie Price, Kennedy Morey, Angela Fahrety and Emily Eberth, the coach added, were "great additions" to the team as well, with their attitudes and work ethic.
"I have to contribute our successful season to the hard work and dedication from these 12 young ladies," Bates said. "They are the most coachable girls I have ever worked with in my 10 years of coaching. "