THS

boys cross country takes 2nd at

KVL
Tonganoxie girls finish 4th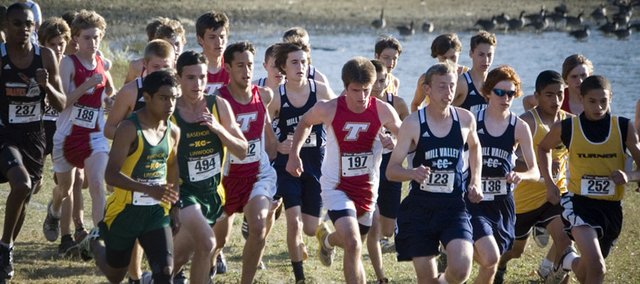 Kansas City, Kan. — Despite running without its usual full compliment of runners Thursday at the Kaw Valley League Meet at Pierson County Park, Tonganoxie High's boys cross country team claimed its spot as the second-best team in the league.
The Chieftains finished a distant second to KVL champ Mill Valley, but with senior Patrick Rachford's second-place time of 17:27 and a 12th-place finish for senior Caleb Himpel, THS was able to finish ahead of the rest of the league, even though three of its top seven runners were absent.
Behind the Chieftains' top two seniors were Jeff Neal (21st), Brad Andrews (26th), Garrett French (27th), Brady Field (36th) and Bret Morey (38th).
Tonganoxie coach Phil Williams said the lineup was different because of disciplinary reasons he did not wish to get into. Dalton Harrington, Clayton Himpel and Asher Huseman didn't participate, even though they had been slated to run the varsity race with Rachford, Caleb Himpel, Neal and French. But they didn't compete in either the varsity of junior varsity races Thursday afternoon.
The Tonganoxie girls finished fourth at the KVL Meet, behind league champion Lansing, runner-up Mill Valley and third-place Basehor-Linwood.
Sophomore Emma Stilgenbauer was 20th, and had the top finish for the Chieftains. Tressa Walker was just five seconds behind her teammate and took 21st. Emily Williams finished 23rd for THS and Halston Field was 26th.
Tonganoxie is off until 3 p.m., Saturday, Oct. 22, when its teams will compete at a Class 4A regional at Wyandotte County Park, in Bonner Springs.
The Chieftains will go up against runners from
Atchison, Baldwin, Basehor-Linwood, Bishop Ward, Bonner Springs, De Soto, Eudora, Jeff West, Perry-Lecompton, Piper, Santa Fe Trail, St. James Academy, Spring Hill, Sumner Academy and Topeka-Hayden.
The top three teams in each race qualify for state, as do the top 10 runners, with the possibility of additional individual qualifiers.
Kaw Valley League Meet
Thursday at Pierson County Park, Kansas City, Kan.
Girls 4K
Team scores: 1. Lansing, 21; 2. Mill Valley, 76; 3. Basehor-Linwood, 81; 4. Tonganoxie, 102; 5. Bishop Ward, 115; 6. Bonner Springs, 151.
Top 5: 1. Mariah Anthony, LHS, 16:53; 2. Malika Baker, LHS, 17:11; 3. Frankie Oropeza, BWHS, 17:24; 4. Caitlin LaNeve, LHS, 17:32; 5. Quinnlyn Walcott, BLHS, 17:41.
Tonganoxie results: 20. Emma Stilgenbauer, 19:12; 21. Tressa Walker, 19:17; 23. Emily Williams, 19:24; 26. Halston Field, 19:46; 30. Alissa Donnelly, 20:06; 31. Amanda Shepley, 20:08; 33. Taylar Morgan, 20:31.
Boys 5K
Team scores: 1. Mill Valley, 27; 2. Tonganoxie, 84; 3. Basehor-Linwood, 93; 4. Bonner Springs, 96; 5. Turner, 113; 6. Lansing, 115.
Top 5: 1. Russell Brown, Turner, 17:13; 2. Patrick Rachford, Tonganoxie, 17:27; 3. Landon Scott, MVHS, 17:30; 4. Brian Mosier, Piper, 17:48; 5. Connor Mehalovich, MVHS, 17:51.
Tonganoxie results: 2. Patrick Rachford, 17:27; 12. Caleb Himpel, 18:26; 21. Jeff Neal, 19:08; 26. Brad Andrews, 19:51; 27. Garrett French, 19:54; 36. Brady Field, 20:51; 38. Bret Morey, 21:07.