Chieftains blown out by Kaws in district opener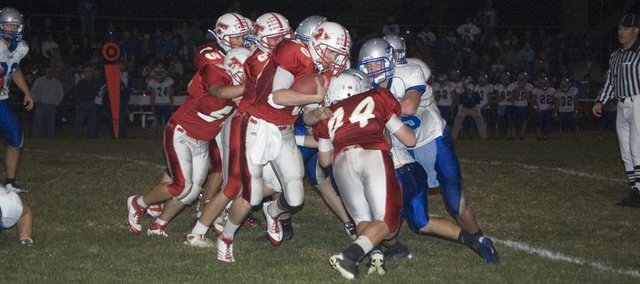 A one-loss team and a one-win team hit the gridiron for a district football opener Friday night at Beatty Field, and it wasn't too hard to figure out which team was which.
Perry-Lecompton looked the part of a squad that wasn't used to losing, and kept Tonganoxie on its skid with a 54-7 road rout.
The Kaws (6-1 overall, 1-0 district) already had a 20-point advantage in the second quarter before the Chieftains (1-6, 0-1), losers of six straight, scored their lone touchdown on a five-yard run by sophomore Shane Levy.
PLHS, led by senior quarterback Jeremy Immenschuh, responded by outscoring THS 34-0 the rest of the night.
With Tonganoxie back within 13, the Kaws were held scoreless on their next possession before getting back on track after the Chieftains went for it on a fourth and one from their own 15-yard line and were stymied by the PLHS defense.
Following an eight-yard run by Luke Kellum, Immenschuh ran for a seven-yard TD.
To make matters worse for THS, senior running back Derek Lingo dropped an option toss from junior quarterback Garret Elston on the first play of Tonganoxie's following drive.
Perry-Lecompton junior lineman Tyler Andrew recovered the ball at the THS 40-yard line and the Kaws went up 27 when Immenschuh didn't get touched on a 40-yard touchdown run.
The senior quarterback finished with five total touchdowns — running for three and passing for two more (both of which were hauled in by senior tight end Jonathan Denton).
On Friday, Perry-Lecompton plays hosts to Jeff West (3-4, 0-1) and Tonganoxie travels to Basehor-Linwood (7-0, 1-0) as district play continues.
Perry-Lecompton 54, Tonganoxie 7
Score by quarters
PLHS 12 22 20 0 — 54
THS 0 7 0 0 — 7
Scoring
P — Luke Kellum 11 run. Conversion failed.
P — Jonathan Denton 58 pass from Jeremy Immenschuh. Kick failed.
P — Conner Harden 17 run. Immenschuh run.
T — Shane Levy 5 run. Amos White kick.
P — Immenschuh 7 run. Denton pass from Immenschuh.
P — Immenschuh 40 run. Kick failed.
P — Immenschuh 14 run. Conversion failed.
P — Riley Davis 91 interception. Will Hinrichsen kick.
P — Denton 36 pass from Immenschuh. Hinrichsen kick.