Man in Thursday motorcycle accident listed in critical condition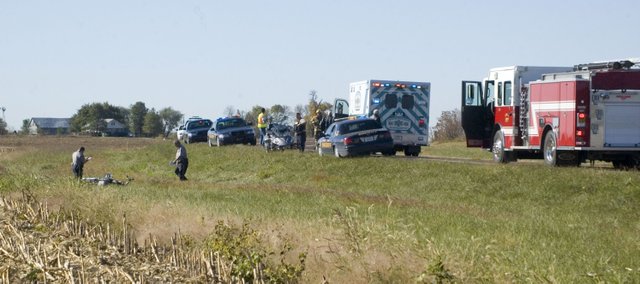 A 74-year-old Linn County man injured in a Thursday morning motorcycle accident is in critical condition at an area hospital.
A Kansas University Hospital official said late Friday afternoon that Eldon L. Barrett was in critical condition.
Barrett was heading north on U.S. Highway 24-40 on a 2000 Honda Shadow about 10 a.m. Thursday when his steering column started to wobble and he lost control of the bike, two people who were riding motorcycles with Barrett told Leavenworth County Sheriff's officials.
Lt. Mark Metcalf with the sheriff's office said it appeared Barrett lost control of the bike on a curve in the road, went off to the right of the road and hit a ditch. The bike, with Barrett still on it, traveled about 20 yards before coming to rest in a field. Metcalf said Barrett suffered a leg injury, but was unsure whether there were additional injuries.
He was taken by Leavenworth County Emergency Medical Services from the scene to KU Hospital.
Barrett was wearing a helmet, Metcalf said, and is from Parker, about 15 miles south of Osawatomie.