Tonganoxie meat plant reopens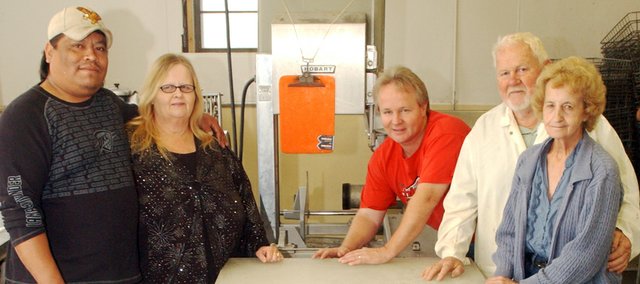 Bob Greenwell was back in his element Thursday, trading jokes with a potential customer inquiring about a future order from his custom meat process plant.
Although the front of the plant and a newly installed freezer are empty, beef carcasses hang from rails in a rear cooler. Butchered Oct. 11, they were the first animals to be processed in the plant at 702 E. Fourth St. in three months.
During that span, Greenwell and his family have been preoccupied with the task of renovating Greenwell's Processed Meat. It was a job necessitated when a lighting bolt from a July 13 thunderstorm struck the roof of the locker plant, knocking loose one cooling tower, swinging it into a second tower and bringing down part of the ceiling in the freezer.
There was no choice but to close immediately, Greenwell said. Fortunately, none of the meat stored at the plant was lost as customers were able to come pick up meat or find space at other nearby locker plants, he said.
Once that was done, Greenwell surveyed what needed to be done to reopen the plant he's worked at since 1956 and owned since 1958.
"It was a mess," he said. "You can't believe how much insulation came down.
"It's hard to believe how difficult it was to do it all. I figured it would be easy, but it wasn't."
Greenwell and his family soon learned how many friends they had in the community.
"A lot of well-wishers and a lot of volunteers helped us get back open again," son Ed Greenwell said. "I think we had people we hadn't seen in years and he (Bob) hadn't thought about. He had more support than he realized."
The elder Greenwell said friends and customers volunteered more than labor.
"It was wonderful how many people helped put it all back together," he said. "I give the community a big thumbs up.
"People would lend us tools and give us stuff. If we needed something, we had people say 'I know were you can get that.'"
With all the work and the approval of state inspectors, the plant officially reopened Oct. 11. A new, smaller and, it's hoped, more energy efficient freezer capable of holding 150 trays is operational and new rafters support the roof.
The elder Greenwell said he was confident most of his customers would return, although he assumed would stay with the plants where they placed meat in July.
The plant did miss the business associated with the Leavenworth County Fair, Greenwell said. It also missed the start of the deer hunting season, but should be able to take advantage of the majority of the deer hunting season, which he said usually meant from 200 to 300 deer a year.
"It feels really good to be back o