Chieftains 'whooped' by Perry-Lecompton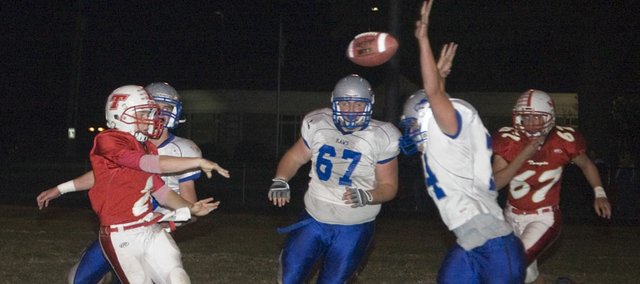 DISTRICT BREAKDOWN
Week 1
Basehor-Linwood 42, Jeff West 14
Perry-Lecompton 54, Tonganoxie 7
Standings
(Team, record, point differential)
tie-1. Basehor-Linwood, 1-0, +13
tie-1. Perry-Lecompton, 1-0, +13
tie-3. Jeff West, 0-1, -13
tie-3. Tonganoxie, 0-1, -13
After seeing his team get blown out, 54-7, by Perry-Lecompton in the final home game of the season Friday night, Tonganoxie High interim football coach Matt Bond knew exactly what led to the Chieftains' sixth straight loss.
It wasn't the Kaws' skill players or up-tempo approach on offense alone that allowed the visitors to destroy THS in the opening week of district play.
"They just physically beat us up front," Bond said. "There's no other way to put it."
With PLHS (6-1 overall, 1-0 district) dominating the line of scrimmage and successfully executing blocks outside throughout the night, the Kaws compiled more than 500 yards of offense. Conversely, Perry-Lecompton's defense limited Tonganoxie (1-6, 0-1) to 249 yards from scrimmage.
Though the Chieftains were unable to slow down PLHS or put a dent in the scoring margin, Bond maintained the THS players did not mail it in.
"I have no problems at all with the effort our kids were playing with," he said. "It's just that we physically got whooped tonight."
Once Perry-Lecompton started churning out scoring drives, the closest Tonganoxie got to making things interesting was in the second quarter, when Shane Levy rushed for a five-yard touchdown and, following an Amos White kick, the Chieftains were down 20-7 with 7:48 left in the first half.
However, on Tonganoxie's next eight possessions, the home team turned the ball over on downs four times, lost a fumble, threw an interception, punted and had the fourth-quarter running clock expire.
It didn't help THS that running backs Jared Sommers and Derek Lingo were injured in the first half. By the end of the game, quarterback Garret Elston and lineman Gus Dent also had been lost to injury.
The few bright spots for Tonganoxie came when Dallas Jacobs blocked an extra point and Ryan Lynch got a sack in the second quarter and Thomas Miller recovered a fumble late in the third quarter.
Miller led the team with 11 total tackles. Elston had nine and Tyler Zinser finished with eight.
With just two weeks left in the regular season, Tonganoxie's coaches and players know the possibility of THS making the postseason is minimal. The loss to PLHS put the Chieftains in a hole and next up is a 7 p.m. Friday game at Basehor-Linwood (7-0, 1-0), which has outscored opponents by an average score of 46-16 this season. If Tonganoxie were to win that game, it would be a monumental upset.
Bond had a simplistic approach for his players as they enter what will most likely be the final two weeks of their season.
"This is a very difficult situation all the way around for our kids," Bond said. "We want them to continue to be positive people, and we want them many years from now to look back on this situation and hopefully understand that they went through a difficult time. And hopefully it helps them to become better people in life."
Perry-Lecompton 54, Tonganoxie 7
Score by quarters
PLHS 12 22 20 0 — 54
THS 0 7 0 0 — 7
Scoring
P — Luke Kellum 11 run. Conversion failed.
P — Jonathan Denton 58 pass from Jeremy Immenschuh. Kick failed.
P — Conner Harden 17 run. Immenschuh run.
T — Shane Levy 5 run. Amos White kick.
P — Immenschuh 7 run. Denton pass from Immenschuh.
P — Immenschuh 40 run. Kick failed.
P — Immenschuh 14 run. Conversion failed.
P — Riley Davis 91 interception. Will Hinrichsen kick.
P — Denton 36 pass from Immenschuh. Hinrichsen kick.
THS rushing: Derek Lingo 10-74, Shane Levy 15-52, Tyler Zinser 7-43, Garret Elston 7-31, Jared Sommers 2-16, Julius Coats 2-15, Micah Barnes 1-2, Tyler Ford 4-minus-2, Milton Ulreich 1-minus-2, Carl Hecht 1-minus-5.
THS passing: Garret Elston 3-14-25 two intercepted.
THS receiving: Bret Shelton 1-9, Amos White 1-9, Tyler Zinser 1-7.