Stepping up: Replacements help
THS

finish 2nd at

KVL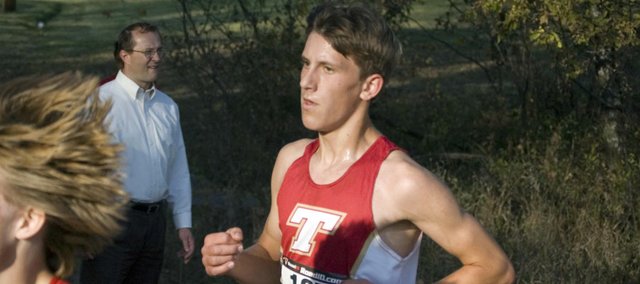 Photo Gallery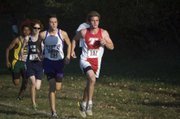 THS cross country at KVL championships
Tonganoxie High's boys cross country team took second place Thursday at the Kaw Valley League Meet at Pierson County Park, in Kansas City, Kan. The THS girls finished fourth.
Kansas City, Kan. — In a situation that easily could have deterred their performance Thursday at the Kaw Valley League Meet, Tonganoxie High's boys cross country runners turned a negative into a positive.
Boosted by a silver-medal performance from senior Patrick Rachford and a 12th-place showing by senior Caleb Himpel, the Chieftains finished second in the KVL, despite running without three regular varsity contributors who were held out for undisclosed disciplinary reasons.
THS finished second to league power Mill Valley and was able to score fewer points (84) than both Basehor-Linwood (93) and Bonner Springs (96) in the absence of Dalton Harrington, Clayton Himpel and Asher Huseman.
Jeff Neal (21st) and Garrett French (27th) were in the Tonganoxie lineup as usual and were helped by fill-ins Brad Andrews (26th), Brady Field (36th) and Bret Morey (38th) at Pierson County Park.
Chieftains coach Phil Williams said he was pleased with the team's performance.
"Many times, losing some of your regulars creates a negative effect mentally, but we seemed to have no problem with it," Williams said.
Caleb Himpel said he wanted to pick up the slack in the absence of the runners.
"Just as a team it kind of hurts us," he said of scoring with an altered lineup.
Hit with the news that three varsity runners would be unavailable the night before the league championship, Rachford said the rest of the team didn't have much time to think about what could go wrong in that scenario. After his second-place finish, the senior praised Tonganoxie's last-minute replacements, Andrews, Field and Morey.
"The guys who normally do JV who ran varsity today, I think, did an outstanding job." Rachford said. "I'm proud of them for stepping up to the plate and doing well when most people would probably fail."
Williams said Caleb Himpel's emergence as a top runner after starting the season injured and Neal's ability to perform after missing the previous week really helped the Chieftains. Still, he said the biggest factor in the team's second-place finish was the running of its least experienced members.
The coach said Andrews is coming into his own, Field used his past varsity experience (he has run mostly for the junior varsity of late) and Morey competed "with everything he had" in his first varsity race.
"If these three had not done their job, we could have easily been had by Basehor," Williams said, noting even at full strength THS likely couldn't have caught Mill Valley.
Williams said Harrington and Clayton Himpel will be back in the lineup for the team's regional and Huseman will be an alternate.
Tonganoxie girls 4th
Heading into the KVL championship, Williams knew it wouldn't be easy for the Tonganoxie girls to crack the top three — not with the likes of Lansing, Mill Valley and Basehor-Linwood favored ahead of them.
By the time the 4K race ended Thursday, the Chieftains stood exactly where the coach thought they would: Fourth place, behind champion Lansing, runner-up MVHS and third-place BLHS.
"The top three teams finished pretty much as I expected. We hoped that we might have a shot at Basehor, but without Hunter (Cook), it was pretty tough," the coach said. "Even with her, they would have to be favored."
Williams said Cook, who has been recovering from severe soreness in her quad, would have ran on a less hilly course. Without her, Emma Stilgenbauer (20th) and Tressa Walker (21st) continued to lead the Chieftains, who also benefited from a strong outing by freshman Emily Williams (23rd).
The team's coach was impressed with the freshman's running at the KVL championship.
"Emily Williams ran her best race yet. She surprised me a little with her finish," the coach said. "I have felt all along she had it in her, but that's the first time she has been able to come through."
Phil Williams said it was good to have Stilgenbauer back on track, too, after a "sub-par" race the week before.
"Most of our girls have been remarkably consistent throughout the year," he said. "We haven't had very many swings up and down."
Stilgenbauer said the runners found that consistency by grouping together on the course.
"We pushed each other really hard," she said. "I know I wouldn't have gone faster if Tressa wasn't telling me to go faster and she wouldn't have gone fast if I didn't tell her to go faster."
When the runners stay close together, Stilgenbauer said they encourage each other and give tips to their teammates as they go: Anything from "come on" or "keep relaxed" to "catch this next person." Basically, whatever is pertinent at the time.
"It helps you like relax," Stilgenbauer said. "Someone's right there with you, knows how you're feeling."
Up next for the Chieftains, at 3 p.m. Saturday at Wyandotte County Park, in Bonner Springs, is a Class 4A regional.
The top three teams in each race qualify for state, as do the top 10 runners, with the possibility of additional individual qualifiers.
Kaw Valley League Meet
Thursday at Pierson County Park, Kansas City, Kan.
Girls 4K
Team scores: 1. Lansing, 21; 2. Mill Valley, 76; 3. Basehor-Linwood, 81; 4. Tonganoxie, 102; 5. Bishop Ward, 115; 6. Bonner Springs, 151.
Top 5: 1. Mariah Anthony, LHS, 16:53; 2. Malika Baker, LHS, 17:11; 3. Frankie Oropeza, BWHS, 17:24; 4. Caitlin LaNeve, LHS, 17:32; 5. Quinnlyn Walcott, BLHS, 17:41.
Tonganoxie results: 20. Emma Stilgenbauer, 19:12; 21. Tressa Walker, 19:17; 23. Emily Williams, 19:24; 26. Halston Field, 19:46; 30. Alissa Donnelly, 20:06; 31. Amanda Shepley, 20:08; 33. Taylar Morgan, 20:31.
Boys 5K
Team scores: 1. Mill Valley, 27; 2. Tonganoxie, 84; 3. Basehor-Linwood, 93; 4. Bonner Springs, 96; 5. Turner, 113; 6. Lansing, 115.
Top 5: 1. Russell Brown, Turner, 17:13; 2. Patrick Rachford, Tonganoxie, 17:27; 3. Landon Scott, MVHS, 17:30; 4. Brian Mosier, Piper, 17:48; 5. Connor Mehalovich, MVHS, 17:51.
Tonganoxie results: 2. Patrick Rachford, 17:27; 12. Caleb Himpel, 18:26; 21. Jeff Neal, 19:08; 26. Brad Andrews, 19:51; 27. Garrett French, 19:54; 36. Brady Field, 20:51; 38. Bret Morey, 21:07.