Tonganoxie citywide cleanup judged success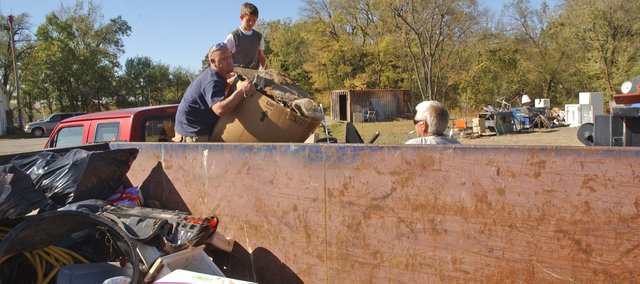 Jesse Dohle arrived at Saturday's citywide cleanup just in time to help fill the day's seventh and last trash roll-off trash container from Weldon Enterprises Inc.
He and friend Troy Morton had a garage full of trash from the plumbing, tree trimming and other side jobs they do together. They planned to load a 21-foot trailer with trash for a run to Leavenworth County Transfer Station.
"We didn't have anywhere left to put anything," he said. "It saved us a lot money on fuel, and you have to pay to get in there, too.
"It's a win-win for everybody. It helps Tonganoxie look better, also."
The cleanup day's organizer, Tonganoxie City Councilman Dennis Bixby, said besides the seven roll-off containers of trash, the day collected one truckload of hazardous waste, 40 gallons of used motor oil, two loads of scrap metal and about half a trailer of electronics.
Weldon and other partners helped make the day a success, Bixby said. For $355, Leavenworth County provided a truck and personnel for the hazardous waste to the county transfer station, Carl Pape collected the scrap metal and appliances and Christy's Electronic Recycling — a new local recycler — was on hand to accept all electronics.
The computers, printers, phones, fax machines, remote control devices and other electronics she collected Saturday amounted to about half what she's picked up since she started her recycling business a little more than a month ago, Christy McGhee said.
In the business, she takes apart the electronics to salvage plastic, motherboards, metals and all else of value, McGhee said.
"It's a learning experience," she said. "The last two months, I've been on EBAY a lot, researching what things are worth."
She is happy to pick up scrap electronics and hopes Saturday will increase awareness of her service, McGhee said. Those with old electronics to recycle may call her at (913) 704-5240.
"I can take everything put TVs and CRT monitors with cathode tubes," she said. "I'm not licensed to handle the lead in them."
Bixby said building awareness of what was available was one of the day's goals and part of the city's three-prong approach to cleaning up the city through education, enticement and enforcement.
He wasn't sure residents knew they could leave large items on the curb for Weldon to haul off the first pickup day of the month or that hazardous waste or other items could be taken to the Leavenworth County Transfer Station, Bixby said.
The condemnation of two structures, resulting in a pile of rubble where the old creamery once stood off First Street and the ongoing removal of another structure near the east city limits on U.S. Highway 24-40, is the most visible example of the city's enforcement policy, Bixby said. But that was a result of the city code officer's stepped-up enforcement this year that also has led to businesses and residents correcting 32 violations of city code and the city taking action to get 15 other violations addressed.
Enticement is an attempt to avoid those situations through such things as the cleanup day, which Bixby said could be expanded to twice a year.
"The mayor (Jason Ward) has said he would like to have something in the spring, possibly tying in with the high school workday," he said. "We want to do this bigger and better."