Tonganoxie firefighters douse house fire on Delaware Street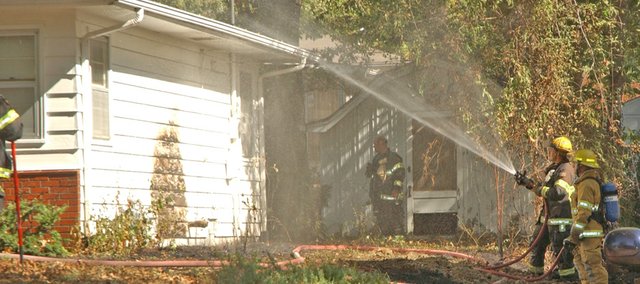 A close call Tuesday provided a cautionary tale to homeowners as dry conditions persist.
About 1:30 p.m. Thursday, the Tonganoxie Fire Department responded to a fire in the 900 block of Delaware Street
Tonganoxie Fire Chief Dave Bennett said the fire probably started from spontaneous combustion in a compost pile on the north side of a house at 911 Delaware St. and spread to the house next door at 905 Delaware St. Occupants of the homes were gone at the time of the fire, Bennett said.
A UPS delivery driver reported the fire, Bennett said. Firefighters arrived on the scene to find a woodpile, leaves and bush burning and fire licking against the south wall of the 905 Delaware house and the paint on the siding burning.
The fire was extinguished before it could do further damage.
"We were five or 10 minutes from a full-blown structure fire," the fire chief said. "We were lucky. We got really lucky on this one."
Bennett recommended homeowners water down brush and compost piles periodically in the absence of significant rainfall.
The city recently started approving burn permits, Bennett said. That would probably end with Thursday's fire until the city receives significant rain.
"It was a wake-up call to all of us," he said.