Chieftains battle, but fall to De Soto in semifinal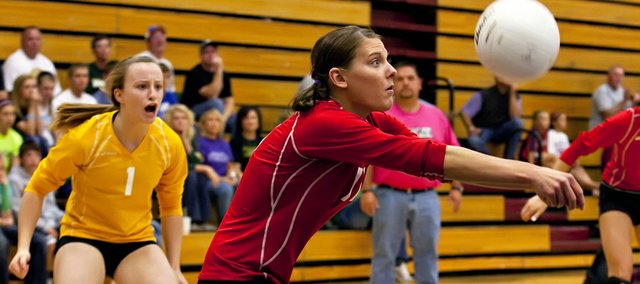 Photo Gallery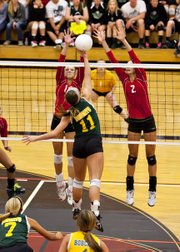 Tonganoxie volleyball at sub-state
The Tonganoxie High volleyball team went 1-1 at a sub-state tournament Saturday at Saint James Academy, in Lenexa. The Chieftains defeated Basehor-Linwood in the first round and lost to De Soto in a semifinal. (Photos courtesy of Mark Greathouse, Greathouse Photography)
They might have come up short of making it to a sub-state final, but Tonganoxie High's volleyball players and coaches didn't consider Saturday's semifinal loss to De Soto a failure.
Chieftains co-coach Brandon Parker said they obviously wanted to beat the Wildcats and advance to face St. James Academy on its home floor in Lenexa, but there was nothing for them to feel ashamed about in regards to a 23-25, 25-20, 25-20 loss to DHS.
Parker said the semifinal was a great match "with two really good teams," and he never felt like THS gave up, which made the season-ending defeat relatively easier to handle.
"That's the way it needs to be at a sub-state," he said of No. 3 seed Tonganoxie's willingness to battle No. 2 De Soto.
A big part of what made DHS, which lost to St. James in the final, so tough to beat, Chieftains senior Brooklyn Kerbaugh said, was the strength of its play above the net.
"They had a lot of talent," Kerbaugh said of De Soto. "Their setter was awesome and they had some big good hitters."
Parker told his players they needed to be "up and swinging" against the Wildcats and be willing to hit it hard back. He said Tonganoxie, which registered 35 kills in the match, didn't back down from that challenge.
"That's pretty much what game one was about," Parker said of the team's two-point win in the best-of-three match.
However, the co-coach said THS got into a big hole in the second game and even though the Chieftains worked their way back within a point, the amount of energy and emotion they had expended (some of it being used up in a 19-25, 25-14, 25-15 win against Basehor-Linwood in the first round) caught up with them against a talented De Soto squad.
Said senior libero Megan Hummelgaard: "We did rally for a little bit in that second match. I think that did wear us out quite a bit."
In their semifinal match, Parker said, Tonganoxie (29-11) and DHS (34-8) both rode waves of momentum successfully.
"They sustained longer waves than we did," he said.
By the time the third game ended, the Chieftains' season was over. Kerbaugh said although the team's goal had been to make the final, it was more difficult dealing with the reality of the season's end than the unattained goal.
"We just all realized that we'd never play together again," Kerbaugh said. "But I think it was a good way to end the season, because it was a good fight."
Hummelgaard agreed, and said there was little need for her, Kerbaugh and the team's other seniors — Kailan Kuzmic, Sagan Scates and Haley Smith — to be discouraged.
"I think all of us gave our all. And that's all you can really ask for as a senior," she said.
Parker said he hoped the players' ability to work together showed at sub-state and said wining the final two games against BLHS, after losing the first, was an example of that.
"Every season you have some peaks and valleys and when they were in the valleys they worked to get back out of it," he said.
Though the Chieftains will lose five seniors to graduation, Jenny Whitledge, who had a team-high 18 kills against De Soto, Hannah Kemp, Madee Walker and Katelyn Waldeier will all be back for next season.