Unfinished business
THS

boys cross country headed back to state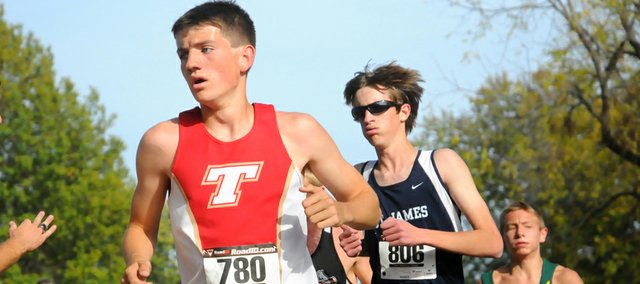 Photo Gallery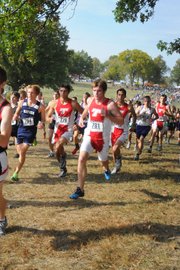 THS cross country runs at regional
Tonganoxie High's boys cross country team took third place and qualified for state Saturday at a Class 4A regional at Wyandotte County Park, in Bonner Springs. The THS girls came in ninth.
The Tonganoxie High boys cross country team accomplished one of its season goals Saturday, qualifying for the Class 4A state meet, but head coach Phil Williams knows there's still more work to be done.
The team advanced to state last season, finishing 12th. Now that the team has returned, Williams said the players aren't just happy to be there, but are hoping for a stronger finish to their season and will bring a different attitude to this year's meet.
"Last year is the first year they've been there and they were a little nervous and a little intimidated, but this year they'll have a little more aggressive attitude, I think, and a little bit higher goals than what we had last year," Williams said.
Tonganoxie finished third out of 13 teams at a regional meet Saturday at Wyandotte County Park, in Bonner Springs. The Chieftains had a team score of 91 and were just seven points behind second-place finisher Baldwin. De Soto won the regional meet with a team score of 42. Williams said he thought before the race his team could finish in the top two, but the important thing was having a chance to compete at the state meet.
"We felt we ran well," Williams said. "I think we maybe could have done … things a couple of times a little different but, you know, overall I think our boys ran one of their better races of the season."
Senior Patrick Rachford led the Chieftains at the regional, finishing in third place with a time of 16:48, while senior teammate Dalton Harrington also finished in the top 10, coming in eighth with a time of 17:14. Senior Caleb Himpel, 20th with a time of 18:04, junior Jeff Neal, 23rd with a time of 18:10, and sophomore Garrett French, 41st running the 5K in 18:49, rounded out the top five for the Chieftains. Williams said both Rachford and Harrington have the ability to medal at state this Saturday.
The THS girls team finished ninth at the regional meet with a team score of 237. Sophomore Emma Stilgenbauer was the highest-placed Chieftain coming in 39th and with a time of 17:17. Freshmen Emily Williams, 45th place, and Tressa Walker, 49th place, were behind Stilgenbauer. Sophomore Hunter Cook has been the team's No. 1 runner all season but was battling an injury and finished 60th at the regional meet.
"They really wanted to perform well (Saturday) and had some high goals but they were just in a little bit over their head with the competition in the regional," Williams said. "I think three or four, maybe even five of the top eight or nine teams in the state were there in our regional, so that's pretty tough."
Tonganoxie will return every girl on its varsity squad, so Williams is excited about the possibilities for next season.
"I think we can be pretty good next year and we can get everybody to put in some miles over the summer and get ready for the season and I'm looking forward to next year."
The state meet Saturday is at Wamego Country Club, which is a course filled with hills. Williams said the team has cut back on its mileage the past few weeks and this week the team will run sprints and hills before resting their legs in preparation for the meet. Tonganoxie already has competed against many of the teams this season that it will face at the state meet. Williams thinks knowing the competition will help the boys team both mentally and physically.
"De Soto and Baldwin … have been two of the top programs in the state for several years and since we've run against them and feel like we're not that far from them, it gives us confidence, as well as knowing how we match up with their individual runners," Williams said. "But it also gives us confidence and I think that's the main thing that we can be there with them if we run well."
Class 4A cross country regional
Saturday at Wyandotte County Park, Bonner Springs
Girls 4K
Team scores: 1. Baldwin, 29; 2. De Soto, 83; 3. St. James Academy, 92; 4. Topeka-Hayden, 113; 5. Spring Hill, 169; 6. Basehor-Linwood, 185; 7. Santa Fe Trail, 194; 8. Eudora, 223; 9. Tonganoxie, 237; 10. Bishop Ward, 239; 11. Jeff West, 307; 12. Perry-Lecompton, 307; 13. Bonner Springs, 330.
Top five: 1. Katie Jones, Baldwin, 15:28; 2. Alexa Van Lerberg, St. James, 15:37; 3. Carol Whaley, Baldwin, 15:38; 4. Quinnlyn Walcott, Basehor-Linwood, 15:44.2; 5. Rebekah Burgweger, De Soto, 15:44.8.
THS results: 39. Emma Stilgenbauer, 17:17; 45. Emily Williams, 17:39; 49. Tressa Walker, 17:44; 55. Taylar Morgan, 17:59; 58. Halston Field, 18:12; 60. Hunter Cook, 18:20; 63. Amanda Shepley, 18:27.
Boys 5K
Team scores: 1. De Soto, 42; 2. Baldwin, 84; 3. Tonganoxie, 91; 4. Basehor-Linwood, 123; 5. Santa Fe Trail, 141; 6. Bonner Springs, 148; 7. Jeff West, 193; 8. St. James Academy, 198; 9. Topeka-Hayden, 203; 10. Spring Hill, 247; 11. Eudora, 274; 12. Perry-Lecompton, 348; 13. Atchison, 364.
Top five: 1. Angel Vasquez, De Soto, 15:42; 2. Tosh Mihesuah, Baldwin, 16:41; 3. Patrick Rachford, Tonganoxie, 16:48; 4. Ethan Hartzell, Baldwin, 16:57; 5. Brian Mosier, Piper, 17:05.
THS results: 3. Patrick Rachford, 16:48; 8. Dalton Harrington, 17:14; 20. Caleb Himpel, 18:04; 23. Jeff Neal, 18:10; 41. Garrett French, 18:49; 45. Clayton Himpel, 18:58; 50. Brad Andrews, 19:10.