Chieftains volleyball improves to 3-0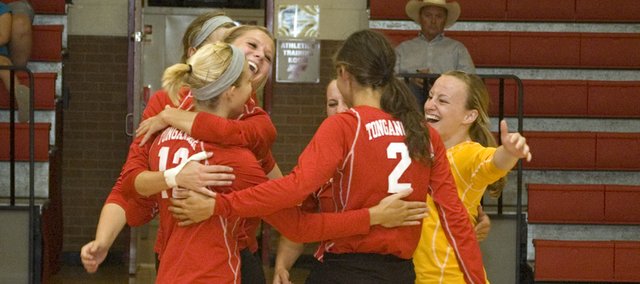 After opening its season with two road matches, the Tonganoxie High volleyball team enjoyed its friendly home confines Thursday night and remained unbeaten.
The Chieftains dropped a game for the first time this season, but handled visiting Paola, 25-18, 25-16, 22-25 and 25-14.
With its third dual victory in four nights, THS improved to 3-0 and co-coach Brandon Parker couldn't help but sound like a broken record in describing how the team has been playing for he and Tiffany Parker.
"All nine of them are contributing," he said of the players. "We're not relying on one or two people. It's spread out."
Whether it was Madee Walker and Katelyn Waldeier coming up with a block, Megan Hummelgaard or Jenny Whitledge getting low for a dig, Hannah Kemp and Sagan Scates setting things up or Kailan Kuzmic and Brooklyn Kerbaugh getting high above the net for a kill, Tonganoxie had the court covered.
Another critical part of the team's early season success, Hummelgaard said, has been its service.
"Our serving is one of the biggest factors," the senior libero said. "We've been serving really good and that's what you need to do to win games."
As an example, Parker pointed to a portion of the fourth game when Haley Smith caught fire while serving for Tonganoxie. In the first game, Kuzmic had a similar run.
The only hiccup on the evening for the Chieftains was the third game. Parker reluctantly said he was almost glad they lost that game because he wanted to see how they would react to the situation.
Scates said it felt good to bounce back and close out the match in the fourth game.
"The third game that we lost, we kind of realized a team like this isn't gonna back down," she said. "They're gonna keep fighting."
THS volleyball's next match doesn't come until 7 p.m. Sept. 8 at Baldwin.