THS

boys cross country defeats Lansing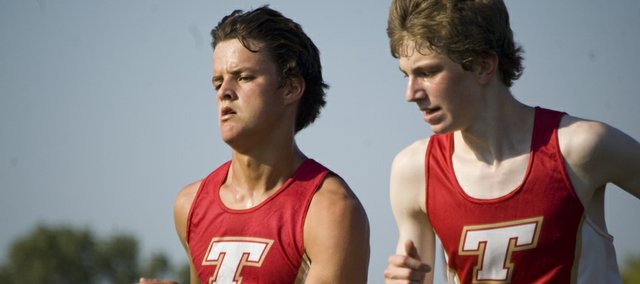 Keeping with an ongoing tradition, Tonganoxie High's cross country team opened its season against Lansing Thursday afternoon.
The Chieftains' boys defeated LHS in the season-opening run and the THS girls lost to the Lions, who scored a perfect 15 points by sending each of their top five runners across the finish line in front of Tonganoxie.
The THS boys were able to pull off the victory and gain ownership of the traveling trophy that the two schools compete for thanks to the efforts of seniors Dalton Harrington and Patrick Rachford, who finished first and second respectively.
Sophomore Hunter Cook was the first across the finish line for the Tonganoxie girls. She finished sixth, three spots ahead of the Chieftains' second fastest runner, sophomore Emma Stilgenbauer.
At 5:30 p.m. Sept. 8, THS will run at the Atchison County Invitational.
Tonganoxie-Lansing duals
Thursday at Tonganoxie
Girls
Lansing 15, Tonganoxie 48
(A timer malfunction during the girls race kept official times from being recorded.)
Individual results: 1. Mariah Anthony, LHS; 2. Nashia Baker, LHS; 3. Amy Redden, LHS; 4. Malika Baker, LHS; 5. Abbie Hilliard, LHS; 6. Hunter Cook, THS; 7. Sarah Hannon, LHS; 8. Caitlin Laneve, LHS; 9. Emma Stilgenbauer, THS; 10. Halston Field, THS; 11. Amanda Shepley, THS; 12. Taylar Morgan, THS; 13. Tressa Walker, THS; 14. Alissa Donnelly, THS.
Boys
Tonganoxie 24, Lansing 33
Individual results: 1. Dalton Harrington, THS, 18:24; 2. Patrick Rachford, THS, 18:27; 3. Jack Foster, LHS, 18:41; 4. Chris Brown, LHS, 18:49; 5. Felix Albl, LHS, 19:23; 6. Jeff Neal, THS, 19:41; 7. Clayton Himpel, THS, 19:52; 8. Garrett French, THS, 19:53; 9. Asher Huseman, THS, 20:06; 10. Sonjay Baker, LHS, 20:43; 11. Tyler McKee, LHS, 20:48; 12. JT Hager, LHS, 21:14; 13. Brady Field, THS, 21:22.