THS

football ends long week with 28-point 'W'
Chieftains victorious in interim coach Bond's debut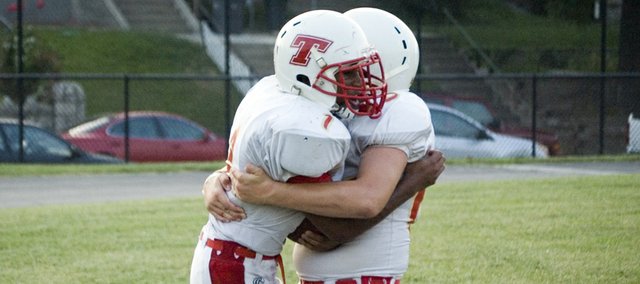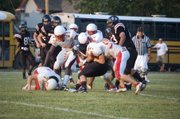 Kansas City, Kan. — Two days after its head coach resigned amid controversy surrounding a confrontation with a player, the Tonganoxie High football team ended a tumultuous week and an eight-game losing streak Friday with a 34-6 victory at Bishop Ward.
Chieftains Cole Holloway, Joe Wolf, Shane Levy, Derek Lingo and Garret Elston all rushed for a touchdown as THS picked up its first victory since last season's opener against Ward.
Interim Tonganoxie head coach Matt Bond saw his team score 34 unanswered points in his debut after replacing 11-year coach Mark Elston.
The Cyclones (0-1) actually struck first with a 13-play, 65-yard touchdown drive to open the game. But after Ward took a 6-0 lead less than six minutes in, THS (1-0) kept the home team out of the end zone for good.
The Chieftains responded to the early Ward score with an 82-yard drive capped by a 15-yard rushing touchdown by sophomore running back Holloway.
Neither team scored the remainder of the half, but after Tonganoxie opened the third quarter going three-and-out it only took three plays on the Chieftains' next possession to get to the end zone. Wolf scored from 35 yards out on his first touch of the game.
THS set up on a short field for its next series after Tyler Zinser intercepted a Cyclones pass inside the Tonganoxie five-yard line and took it 70 yards the other way. After Wolf gashed the BWHS defense for another big run, Levy finished a quick two-play drive by pounding the ball 14 yards up the gut for a score and the visitors went up 20-6 with an extra point by kicker Amos White.
On the opening drive of the fourth quarter, the Chieftains didn't score quite as quickly but it only took eight plays for them to go 69 yards for another rushing score — this time by Lingo.
A senior safety, Lingo made an interception on the ensuing possession to set up Tonganoxie's final scoring drive, which ended with quarterback Elston running 10 yards to the end zone with just 4:20 left to play.
At 7 p.m. Friday, the Chieftains (1-0) play host to Piper.
Score by quarters
THS 7 0 13 14 — 34
Ward 6 0 0 0 — 6
Scoring
W — CJ Vallejo 28 pass from Michael Golubski. Andrew Schneider kick failed.
T — Cole Holloway 15 run. Amos White kick.
T — Joe Wolf 35 run. White kick.
T — Shane Levy 14 run. White kick failed.
T — Derek Lingo 3 run. White kick.
T — Garret Elston 10 run. White kick.
THS rushing: Cole Holloway 9-102, Derek Lingo 11-93, Shane Levy 8-62, Joe Wolf 2-48, Garret Elston 6-27, Tyler Ford 3-21, Jared Somers 1-8, Luke Carey 1-6.
THS passing: Garret Elston 0-2-0 one intercepted.