9.11.01: 10 years later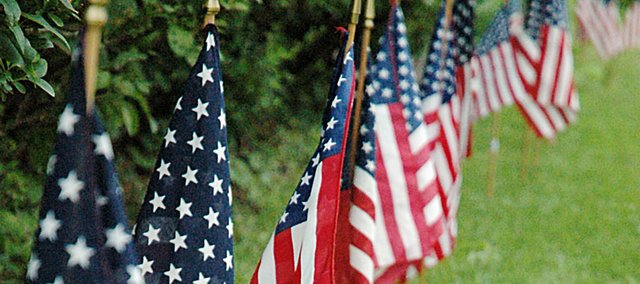 A catchphrase popular in the wake of the terrorist attacks of 10 years ago was that "9/11 changed everything."
The attacks claimed 2,996 lives and gave rise to a wave of change through the two wars it spawned, another ongoing clandestine war against Al Qaeda, the creation of a Department of Homeland Security and a related anti-terrorist apparatus that now totals more than 260 agencies, passage of the Patriot Act, stepped-up security at American airports and elsewhere and a nationwide effort to upgrade preparedness.
But change came on the personal level, too. For Stephen Seely, son of Harold and Joan Seely of Tonganoxie, change came through a front-row seat to the pivotal event of the terrible day.
Seely still lives in the New York City apartment building 20 blocks from what is now known as Ground Zero, but before Sept. 11, 2001, was the site of the World Trade Center on the southern tip of Manhattan.
The then-28-year-old actor climbed to the roof of the East Village building soon after the first plane struck the center's North Tower at 8:46 a.m. He was witness to history minutes later as he saw flames explode when United Airlines Flight 175 slammed the South Tower, the subsequent collapse of the two towers and the march north of dazed, bloodied and dust-covered survivors.
"It changed my life," Seely said. "It was so unbelievable. It was overwhelming this was actually happening. It was surreal. Who knew this was going to happen on such a beautiful day?
"Being a farm boy from Kansas, something like that had a huge effect on me."

Disbelief gave way to fear and a desire to help. Seely said an experience two days after the attacks involving both those feelings that temporarily convinced him to give up on New York City.
"I went with a friend to give blood," he said. "There were about 2,700 standing in line to donate blood for survivors. We didn't know then there wouldn't be any survivors. They didn't need our blood. We went to Union Square to have lunch. While we were there, there was a bomb scare. Everybody had to stay in Union Square for hours.
"During that bomb scare, I decided I had to go home and get away from that for awhile."
He came to Tonganoxie thinking he wouldn't return to New York.
"I didn't want to be in a place that unsafe," he said. "But Mom and Dad changed my mind. I've lived here ever since."
Still, he doesn't have the same sense of security he had before 9/11, despite living with heightened security measures that include policemen randomly searching bags at the subway stations, guards requesting papers on visits to the city's office buildings and stepped-up airport security during frequent trips in the last year as an actor, writer and director.
Once back in New York, he had a "therapeutic" experience when he joined other theater performers to put on two 9/11 benefit shows, Seeley said.
"Many people wanted to do something, but there was no outlet," he said. "Several arts organizations got together to put on several performances in the East Village. It was very, very rewarding because it felt like a community of actors and performance artists getting together and contributing as we knew how."
Witnessing 9/11 and living in New York City as its residents coped with the tragedy has changed the way he identifies himself, Seely said.
"It's definitely made me closer to the people around me — native New Yorkers — experiencing something that tragic," he said. "I'll always have Tonganoxie in my heart, but I feel like I'm a New Yorker now."
From 9/11 to Katrina
Seely's life changed as he witnessed the 9/11 attacks unfolding from his rooftop, but Tonganoxie Fire Chief Dave Bennett would experience the aftermath of Hurricane Katrina, the other great national tragedy of the last decade, as a result of that attack.
When different public safety agencies converged on the World Trade Center 10 years ago, many found they couldn't communicate with their fellow first responders and were trained to follow different response protocols.
That confusion prompted a nationwide effort that has reached down to the local level.
"After the 9/11 attacks, the country recognized first responders needed a lot of things, but the biggest thing was to be able to communicate together," Bennett said. "The nation is working on co-operability. Leavenworth County this last year went to a new radio system to do that."
Federal grants have been made available to help with local needs. His department has received three grants to help with equipment and personnel enhancements, Bennett said.
Procedures and training have been standardized so that all departments will be on the same page if called to help in different jurisdictions.

"In training, one of the biggest things is learning the national incident command system," Bennett said. "Everybody now works in a certain framework. We're all talking the same language now on how things set up."
With the grants and standardized training, there has been an emphasis on sharing resources to make equipment and personnel available where needed. That reform led to his trip six years ago to Jefferson Parish on the outskirts of a devastated New Orleans, he said.
"As a direct result of 9/11, the Tonganoxie Fire Department is part of a database of all departments in the United States," he said. "We had to agree to that to get federal aid.
"When Katrina hit, FEMA put out a notice needing firefighters to go to the Gulf. I sent our obligation to send two, thinking they'd never call on Tonganoxie. Ten minutes later, I got notification to be on a plane in 24 hours."
Son goes to war
For Mother's Day, 2002, nine months after 9/11, John Thorne made a flagpole for their Tonganoxie home, Dee Thorne said. The couple had extra reason to fly the flag — their son Jay was in the military in a country that was now in one active war and soon to be in another.
"He (Jay) is the one who called me and told me what was going on the television on 9/11," she said. "I just started crying and praying. It was about all I could do."
At the time, Jay was a bus mechanic in Lawrence and had never been away from home, his mother said. But he was also in the Army Reserve. Dee said Jay understood he would soon be called to active duty.
"He knew," she said. "We were scared for him, but we were proud of him."
Within a year, his Gardner-based Reserve unit was called up, Dee said. Less than two years later, Jay was stationed in Kuwait, hauling tanks and other pieces of military equipment to destinations in Iraq. On Father's Day, 2005, her husband and Jay surprised both Dee and Jay's wife, Amy, when he secured leave for a short visit home for the birth of the couple's first child, Lexie.
Jay has since joined the Army full-time with the intention of making it his career, Dee said. The young man who had never left home 10 years ago has completed three tours in Iraq, the latest as a helicopter gunner, and is now stationed at Fort Leonard Wood, Mo., where his lives with his wife and three children.
"There's been a lot of changes," Dee said. "It (9/11) was a day that changed all our lives. I'll always remember New York, the Pentagon and those on the airplane (United Airlines Flight 93).
"We shouldn't take our freedoms for granted."
Lasting change?
As he did 10 years ago, Stephen Seely will return for a September visit to Tonganoxie — this time for his 20-year class reunion. He will return again with 9/11 much on his mind.
He recently visited Ground Zero for the first time in years with an out-of-town friend, Seely said. After years of inactivity, there's been a good deal of progress at the site. The footprints of the two towers are to be memorial parks in a redevelopment that will include two new skyscrapers.
"They're really racing to get the memorials finished this year," he said "It's really spooky to go down there. It's been holes in the ground for so long."
He's interested to see what the mood of New Yorkers and, indeed, the country will be as the 10th anniversary passes and to take note of how enduring were some of the changes 9/11 brought, Seely said. Things change in a decade, he said, noting he, too, feels different with 10 more years of maturity.
"I think there was a solidarity, not only in New York but in the country," he said. "When I came home to Tonganoxie, everybody was waving the American flag. It's really going to be interesting this week to see what happens.
"I'm curious how New Yorkers are going to react. Are they going to pull together, or move on with their daily lives?"