Blue-ribbon quilt tribute to those who died on 9/11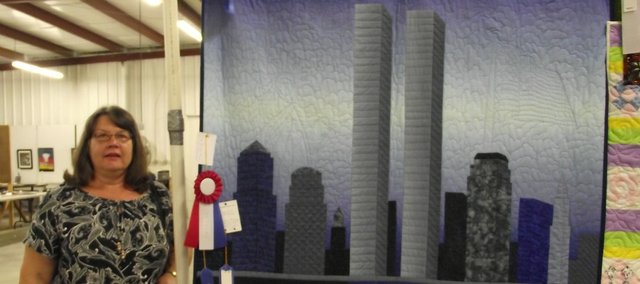 Tonganoxie — Susan Morrison started envisioning a tribute quilt to the victims of 9/11 months after the tragedy occurred.
Though Morrison was in contact with people who worked near the World Trade Center through her job, she did not know anyone who died as a result of the attacks.
Nonetheless, she remembers the day vividly.
She recalls watching the events unfold on television and thinking about the people who lost their lives, as well as their families.
The emotions also hit closer to home.
She remembers being emotional that day, seeing the Selective Service card on the refrigerator that belonged to her son, who had just turned 18.
"That paperwork was on my refrigerator, and I just started crying," she said, recalling her fear that the country would be at war. "It was etched pretty hard in my memory, knowing what it meant to have an 18-year-old who could be called to serve."
Morrison, a rural Tonganoxie resident who has created roughly 60 quilts, started envisioning the pattern for her quilt months after 9/11 occurred. But meshing fabric with pattern wasn't easy because a lack of free time. In January, after 24 years as office manager at Olathe's Chartrand Communications, she was the victim of a layoff.
That month, she started assembling the wall-hanging quilt.
In the twin towers, Morrison incorporated 2,976 windows, representing each victim's life lost in the attacks among the World Trade Center in New York City, the Pentagon in Washington, D.C., and the United Airlines Flight 93 plane that crashed in Pennsylvania.
In the sky above the towers are two eagles representing American Airlines Flight 11 and United Airlines flight 175. Morrison also filled the sky with the American flag and Statue of Liberty.
For the skyline flanking the twin towers, Morrison viewed the New York skyline and etched nearby buildings for her pattern. In the harbor are reflections of those buildings, but not the towers.
Morrison, who has been making quilts for about 28 years, finished the quilt in roughly six to seven months, she said. It's customary to name quilts and Morrison named this patriotic quilt "We Will Never Forget" and dedicated it to her parents, Robert and Dorothy Koelzer, who were married Sept. 11, 1950.
"We never forget Mom and Dad's anniversary," Morrison said. "There's happy days for September 11 also."
Morrison entered the quilt in the Leavenworth County Fair and won the top ribbon in the wall hanging category and machine quilting with the quilt in August. It also was given the special-in-show ribbon.
Friday, Morrison mailed the quilt off to Hutchinson for the Kansas State Fair where it will be judged and on display. The 55-year-old Leavenworth County resident hopes the quilt will help visitors reflect on that somber day a decade ago.
"We should always remember the people who lost their lives," Morrison said. "That's a large amount of people to pass in a disaster so bad. It's just something we should remember."