Focused on the field
Chieftains win opener 2 days after former coach resigns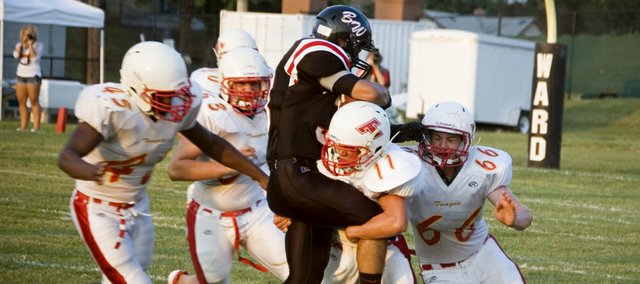 Photo Gallery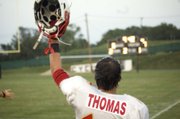 THS football 34, Bishop Ward 6
The Tonganoxie High football team opened 2011 with a 34-6 win at Bishop Ward two days after their head coach stepped down.
Kansas City, Kan. — If Tonganoxie High's football players were distracted heading into their season opener Friday night at Bishop Ward, it certainly didn't show in their play on the field.
For the first time since 1999, the Tonganoxie football program had someone other than Mark Elston calling the shots. And for the first time in 364 days, the Chieftains left the field victorious.
THS scored five unanswered touchdowns and ended an eight-game losing streak dating back to the 2010 opener with a 34-6 win over the Cyclones just two days after Elston stepped down amid controversy surrounding his interaction with a player at a practice earlier in the week.
Elston initially was suspended by the school Aug. 30 before resigning a day later. As far as crazy weeks go, interim head coach Matt Bond said he had never seen one quite like this.
"It's been a very, very difficult week," the newly appointed interim coach said, noting the players faced a lot of adversity and distractions in the days leading up to the game. "The only way we got through it was together."
Despite an inordinate amount of off-the-field distractions, the Chieftains (1-0 overall, 1-0 Kaw Valley League) got through Ward with their ground game. Tonganoxie ran the ball on all but two offensive plays in the opener as eight different players combined for 367 yards on 41 carries — an average of 8.9 yards a rush.
Sophomore Cole Holloway (102 rushing yards) and senior Derek Lingo (93 yards) ignited the nearly unstoppable ground attack on the team's second possession, with THS trailing 6-0. Lingo ran 27 yards on the second play of the drive to put his team in the red zone and two plays later Holloway hit a hole and made a move up the left side of the gridiron for a 15-yard touchdown.
Junior quarterback Garret Elston said that score was all the Chieftains needed to get going.
"That first touchdown, we knew coming out of that the game was ours and nothing was gonna stop us," Garret said.
With an extra point kicked by Amos White, the Chieftains took a 7-6 lead with 1:46 left in the first quarter and never trailed again.
Although Ward (0-1, 0-1) had scored on the game's opening drive, Bond said he felt good about how Tonganoxie responded.
"We always talk about: Some bad things are gonna happen during the game," Bond said. "We may bend a little bit at times, but we're gonna bounce back. We didn't waver. We didn't flinch. I knew the kids would be fine."
THS didn't score again until 7:03 remained in the third quarter. That's when sophomore Joe Wolf got his first carry of the evening and ran 35 yards for a touchdown.
With the Chieftains leading more comfortably, the defense began stepping up. On Ward's ensuing possession, junior defensive back Tyler Zinser had a pass deflection and senior Jonas Myers made four of his team-leading seven solo tackles. The drive ended with Zinser picking off a fourth-down pass at the THS three-yard line and returning it 70 yards before finally being dragged down.
Wolf then opened an ultra-quick, two-play scoring drive with a 13-yard carry before sophomore Shane Levy bulldozed a couple Cyclones on his way to the end zone, giving the visitors a 20-6 lead with a little more than a quarter left to play.
The third quarter ended with Tonganoxie capitalizing on special teams. The THS defense forced a punt and when the snap went high over the Ward punter's head, junior defensive end Julius Coats broke through and sprinted after the punter, who barely got off a net punt of minus-15 yards as Coats applied pressure.
The Chieftains opened the fourth quarter with the ball on Ward's 31-yard line and despite a couple of penalties were able to score after a 19-yard run by Garret on third-and-16 put them inside the five. Lingo ran untouched for a three-yard score with 8:40 left.
Ward's next possession came to a premature end when Lingo picked off a third-down pass, setting up another short field for Tonganoxie.
Six plays later, Garret was running for a 10-yard score with just 4:20 left to play.
Myers and senior linebacker Ryan Lynch led THS with 10 total tackles apiece. Wolf had nine total tackles.
Bond said the victory marked a good end to an unpleasant week.
"I've got to thank having a foundation of strong kids and a strong family that got me through it," Bond said. "I'm very proud of the kids. I'm super-proud they could put all the distractions to the side and just focus on coming out and being successful on Friday night."
At 7 p.m. Friday, Tonganoxie plays host to Piper.
Score by quarters
THS 7 0 13 14 — 34
Ward 6 0 0 0 — 6
Scoring
W — CJ Vallejo 28 pass from Michael Golubski. Andrew Schneider kick failed.
T — Cole Holloway 15 run. Amos White kick.
T — Joe Wolf 35 run. White kick.
T — Shane Levy 14 run. White kick failed.
T — Derek Lingo 3 run. White kick.
T — Garret Elston 10 run. White kick.
THS rushing: Cole Holloway 9-102, Derek Lingo 11-93, Shane Levy 8-62, Joe Wolf 2-48, Garret Elston 6-27, Tyler Ford 3-21, Jared Somers 1-8, Luke Carey 1-6.
THS passing: Garret Elston 0-2-0 one intercepted.