Smith:
THS

football players endure difficult week
Photo Gallery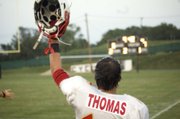 THS football 34, Bishop Ward 6
The Tonganoxie High football team opened 2011 with a 34-6 win at Bishop Ward two days after their head coach stepped down.
WANT MORE?
Read more about the Tonganoxie High football team's hectic week and get other tidbits from the team's opener on The Mirror's sports blog, Sports Supplement.
Imagine being a football player preparing for the first game of the season.
There are just a few precious practices left to iron out the wrinkles and make sure you and your teammates are as prepared as humanly possible for your debut under those Friday night lights.
All of the sudden, your head coach is suspended because of something that happened the previous day at practice. You don't understand why.
You and your teammates go to school early the next day and show your support for the coach, but by the time you go to practice that afternoon and put on your gear, he is there to break some news to you: He has resigned.
Now imagine you're the starting quarterback. And that ousted coach is your father.
That was Tonganoxie High quarterback Garret Elston's past week in a nutshell.
A week ago Monday, he and the rest of his teammates were eagerly preparing for their Week 1 matchup with Bishop Ward. By Wednesday, news trucks were pulling up outside Garret's home as word spread of his father Mark's resignation after a witness reported a verbal exchange between the coach and a player at an Aug. 29 practice.
That's enough to make any football player's head spin, let alone the starting quarterback and son of the embattled former coach. So what did the junior QB do? He pushed the hoopla and hurt feelings aside, took the field Friday night and helped his team win a game for his dad, who watched from the bleachers.
Garret's stat line wasn't mind-blowing by any means. He ran six times for 27 yards and a touchdown and went 0-for-2 passing the ball with an interception. He impressed with his composure, in the way he carried himself.
He had every right to go out there and be ticked off and play angry with something to prove. Instead, he was steady — didn't overexert himself and didn't try to use the game as an avenue to get back at the people who wanted his dad gone from the program.
His emotions didn't really get the best of him until the minutes following Tonganoxie's 34-6 victory. After Garret got a big hug from his grandfather, the Chieftains walked across the field toward their locker room in an orderly fashion until they spotted their former coach on the Dorney Field track. The players couldn't help themselves. They mobbed Mark and jumped up and down to celebrate the win with the man they thought would be leading them this season.
That moment meant a lot to Garret: "It was awesome," he said. "Just awesome."
As the players slowly made their way on past Mark, his son, the winning QB, nearly tackled him as he ran up to give his dad a hug.
"It's been a rollercoaster of emotions, from lows to highs," Garret said looking back on his week that began with "tears of sadness" and ended with "tears of joy."
It surely was neither a week he will ever forget, nor one he would wish for anyone else to endure. The only good that came of it was that it ended.
"Now we can just relax and play," Garret said. "We don't have that burden on us now."
Imagine that.