THS

cheerleaders tops in spirit at summer camp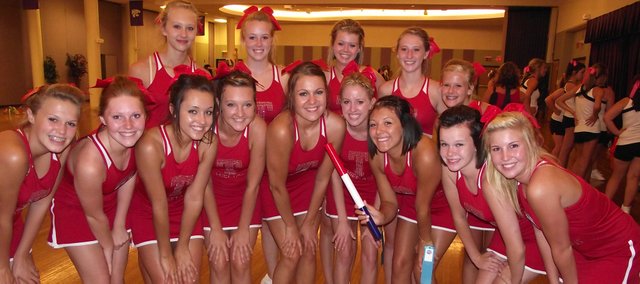 The Tonganoxie High School cheerleading team earned the Spirit Award and other accolades at a National Cheerleaders Association summer camp earlier this summer on the Kansas State University campus.
The Spirit Award is determined by camp members and given to the team that best exemplifies true team spirit and camaraderie. The team also was given the Spirit Stick at the end of both days of the camp.
The Spirit Stick is presented to the squad showing the most sincere spirit and enthusiasm throughout each day at camp. "It was a great honor for Tonganoxie to receive the Spirit Stick on both of the days," said Tracey Waldeier, THS assistant coach.
Emily Stafford, Rachel Wood, Allison Thompson and Kameron Robbins were nominated for All-American, while Stafford and Wood were nominated for dance, Thompson for tumbling and Robbins for jumps.
Amber Shuster, Stafford and Wood received recognition as seniors.
The event attracted more than 170 cheerleaders from Kansas and surrounding states.
In addition to the many awards the cheer squad brought home, Waldeier said it was priceless to give the team members time just to bond with each other. For the 2011-12 school year, six of the 14 cheerleaders are new to the squad, so camp gave the team an opportunity to work together and have fun, she said.
Captains for 2011-12 are Shuster and Stafford. Seniors are Shuster, Stafford and Wood. Juniors are Amanda Shepley, Brittney Thurston, Dena Espeland, Samantha Feiring and Tanna Ward. Sophomores are Thompson, Jessa Thorne and Marissa Martin. Freshmen are Emily Mitchell, Haley Starcher and Robbins. Coach is Amy Johnson with Waldeier as assistant.