THS

cross country runners take top 2 spots in dual win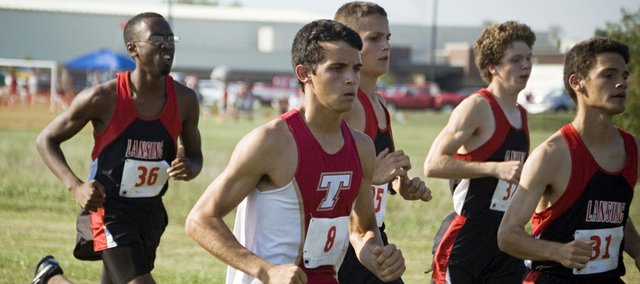 Photo Gallery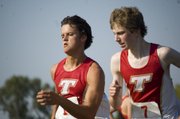 Chieftains cross country opens season
The Tonganoxie High cross country team started its season Thursday at home with a dual against Lansing.
A little more than 100 meters from the finish line at the Tonganoxie High cross country course Thursday, a pair of runners emerged from the cutbacks and raced for first place at a season-opening dual.
Fortunately for the Tonganoxie High boys, both of those runners were Chieftains.
Senior Dalton Harrington finished just ahead of classmate Patrick Rachford and the closest runner from Lansing was 14 seconds behind them as THS began its season with a victory.
Harrington said he tried to stay within 30 yards or so of Rachford throughout the race after failing to keep up with him at the team's practice run the week before.
Tonganoxie coach Phil Williams said the strategy worked.
"Dalton ran one of the smartest races I've seen him run," the coach said. "He stayed close to the lead, but didn't go for it until late in the race."
Harrington said he finally caught Rachford in the back stretch.
"That's where I'm really best at," he said after posting a time of 18:24. "That's where I catch everybody."
The funny thing about coming in second to a teammate for Rachford was that he looked as downtrodden as if a Lansing runner had finished ahead of him. That's just his competitive nature, the senior explained.
"He'll definitely be gloating about that for the rest of the week, but that's OK. He deserves it," Rachford said of Harrington. "He worked hard all week."
Though Rachford didn't mention the injury, Harrington said Rachford would have been tougher to beat had he not been running with a large blister on the back of his heel and Williams agreed.
Though the Lions occupied the third- through fifth-place spots in the dual, THS runners Jeff Neal (sixth), Clayton Himpel (seventh), Garrett French (eighth) and Asher Huseman (ninth) took the next four spots to help the Chieftains win.
Said Williams: "I thought all our boys ran well, especially the two freshmen in their first varsity race, Garrett French and Asher Huseman."
Caleb Himpel, who was kept out of the race because of missing a number of practices with an injury, won the JV boys race and the coach said he expects the senior to help Tonganoxie's varsity squad again soon.
Lansing girls defeat THS
Tonganoxie's girls faced a bigger challenge Thursday in their Lansing opponents. The Lions took each of the top five spots to post a perfect score of 15.
Still, Williams wasn't discouraged by the Chieftains' performance in triple-digit temperature conditions.
"It is very rare for a perfect score, especially against a fairly good team, which I believe we are," the coach said. "I was proud of our girls. They competed well and had no problems with the heat that I could tell."
Williams said Lansing was tough to beat because the Lions had two new transfers this season, including the race winner Mariah Anthony, a state champion from Nevada.
"Her time Thursday in the heat and with no one pushing her should be close to a state medal this year," Williams said of her 15:56.
Tonganoxie's top runner was sophomore Hunter Cook, who finished sixth. Fellow sophomore Emma Stilgenbauer, who is working her way back into prime shape after suffering an ankle injury, finished ninth.
"Hunter Cook again ran very well and is developing some consistency," her coach said, adding that Stilgenbauer should continue to improve.
Halston Field, who finished 10th, Williams said, has been one of the pleasant surprises on the team.
In some disappointing news for THS, sophomore Alissa Donnelly, Williams said, is still fighting pain in her left knee just more than a year removed from an ACL injury.
"I'm not sure what her future in running will be if we can't get it healed," the coach noted.
Ultimately, the season-opening dual didn't give Williams a whole lot of insight about the Chieftains, because LHS was so strong.
"It's hard to tell how good our girls are," Williams said. "Comparing them against Lansing isn't good, because we probably won't face many other teams like them.
"I am still confident we can be successful in most meets we go to."
At 5:30 p.m. Thursday, THS will run at the Atchison County Invitational.
— For complete race results from the dual, go to tonganoxiemirror.com.
Tonganoxie-Lansing duals
Thursday at Tonganoxie
Girls 4K
Lansing 15, Tonganoxie 48
(A timer malfunction during the girls race kept official times from being recorded.)
Individual results: 1. Mariah Anthony, LHS; 2. Nashia Baker, LHS; 3. Amy Redden, LHS; 4. Malika Baker, LHS; 5. Abbie Hilliard, LHS; 6. Hunter Cook, THS; 7. Sarah Hannon, LHS; 8. Caitlin Laneve, LHS; 9. Emma Stilgenbauer, THS; 10. Halston Field, THS; 11. Amanda Shepley, THS; 12. Taylar Morgan, THS; 13. Tressa Walker, THS; 14. Alissa Donnelly, THS.
Boys 5K
Tonganoxie 24, Lansing 33
Individual results: 1. Dalton Harrington, THS, 18:24; 2. Patrick Rachford, THS, 18:27; 3. Jack Foster, LHS, 18:41; 4. Chris Brown, LHS, 18:49; 5. Felix Albl, LHS, 19:23; 6. Jeff Neal, THS, 19:41; 7. Clayton Himpel, THS, 19:52; 8. Garrett French, THS, 19:53; 9. Asher Huseman, THS, 20:06; 10. Sonjay Baker, LHS, 20:43; 11. Tyler McKee, LHS, 20:48; 12. JT Hager, LHS, 21:14; 13. Brady Field, THS, 21:22.