Tonganoxie volleyball enjoying 3-0 start to season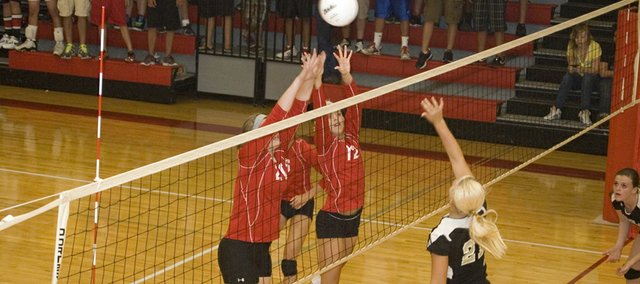 Photo Gallery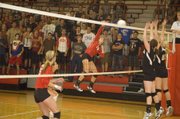 Chieftains volleyball beats Paola
Tonganoxie High's volleyball team improved to 3-0 with a four-game home victory over Paola on Thursday.
This season Tonganoxie High's volleyball coaches are trying to get their players to approach matches, games, points and practices with one common theme: Enjoy the moment.
That's been pretty easy for the Chieftains to follow so far. A 25-18, 25-16, 22-25 and 25-14 home victory over Paola Thursday night improved their record to 3-0.
THS is off to a trouble-free start, in the opinion of co-coaches Brandon and Tiffany Parker, because of the team's balance on the court.
Thursday, for instance, Tonganoxie had four players with three aces, four with five or more kills, three with four or more blocks and four with at least 18 digs.
Chieftains senior setter Sagan Scates said it is good to know different players are more than ready to step up and perform at a high level.
"It's really nice, because everyone feels ownership in the team, I think," Scates said after leading THS with 16 assists. "It's not just one or two stars. Everybody does their part."
Against Paola, senior Brooklyn Kerbaugh led Tonganoxie in blocks (five), junior Hannah Kemp had a team-best 10 kills and senior Kailan Kuzmic finished with a team-high 25 digs. But none of those numbers were that far ahead of the statistics put up by other Chieftains. Jenny Whitledge and Madee Walker both had four blocks, Kuzmic finished with seven kills and senior Haley Smith had 20 digs.
Scates said she had a few sets she wasn't proud of on Thursday, but she knew her teammates had her back and they helped her push through some miscues.
Senior libero Megan Hummelgaard, who had 18 digs, said playing on a balanced team makes things easier on each individual.
"If one of us is having an off day, it's OK, because we know that there's someone behind us to back us up," Hummelgaard said.
No one really struggled against Paola, but co-coach Brandon Parker said the team was far from perfect in the third game, which the Chieftains lost.
"We had a few more errors, we didn't serve as well," he said. "We gave away some opportunities to score by missing serves and Paola's a good team and they were playing well and getting to the right spots. Volleyball's a game of momentum and they had the momentum."
Scates said Tonganoxie took a step in the wrong direction with its passing and service in the third game.
"If you can't pass and you can't serve, you can't win a volleyball game," she said.
Although they are unbeaten early in the season, the players know there are aspects of the game upon which they can improve. Hummelgaard said playing three matches in four nights this past week helped the Chieftains learn about themselves.
"I think it just brought us closer, because we're really excited for the rest of the season to get going," she said. "It was a good week for us."
Parker said THS played fairly well in its opening week, overall, and he expects the team to keep improving.
"It's early in the season, so setters and hitters never connect the best right now," he said, "but it's a lot better than what I thought it would be."
As the team continues to evolve, Parker said he hopes the players will remain unselfish in their play and enjoy the experience.
"I like our enthusiasm," he said. "We've got a good team spirit about us."
At 7 p.m. Thursday, Tonganoxie plays at Baldwin. The Chieftains' next home match is at 6 p.m. Tuesday, when they play host to Basehor-Linwood.