Tonganoxie's animal control officer has 3 decades on the job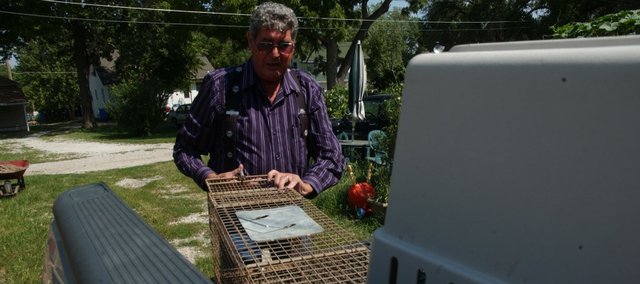 Don Wilson's visit Friday to Tonganoxie proved that being an animal control officer is more than catching stray dogs.
On that day Wilson set two traps. One was for a stray cat causing problems near the elementary school and the other for a raccoon rummaging near an upstairs downtown apartment. For the latter, Wilson decided to place the baited trap on a landing, knowing that raccoons would use the stairs.
Once caught, the raccoon, the meanest animal he deals with, will be released in rural Leavenworth County, said Wilson, the animal control officer for Tonganoxie as well as for Basehor.
The same catch-and-release policy applies to the possums, as well as skunks, animals that have their own defense when angry.
"I have metal traps so they can't see me," Wilson said. "Occasionally, I catch a skunk by hand. The last one I caught was lying by a pillar at the high school. I just went up behind him, caught him by the tail and carried him off.
"I have been sprayed twice. I've been here 30 years, and I've been sprayed twice."
The last time Wilson was sprayed was about 10 years ago at the Leavenworth County Fairgrounds. Riding with him that day, as she does many days, was his wife, Doris, who witnessed her husband's misfortune along with two police officers.
"A police officer said he would give me a ride home," she said. "I rode home with him."
It was no big deal, said the unfazed Wilson. He's had tougher assignments.