THS

soccer gets road shutout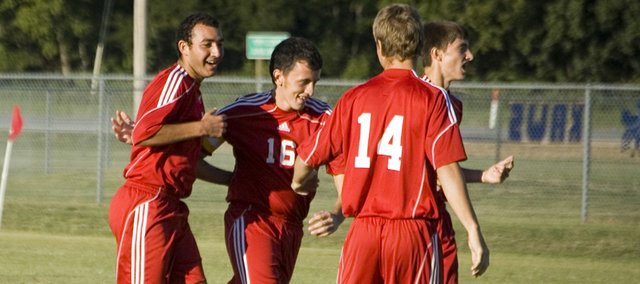 Perry — It took less than two minutes for the Tonganoxie High boys soccer team to get on the scoreboard Thursday night at Perry-Lecompton and the Chieftains had all they needed to shutout the Kaws, 2-0.
THS senior Joseph Parrino put the road team up for good in the second minute, when he fired a shot from more than 15 yards out on the left side. Parrino's shot started its flight wide left of the left post before hooking in the upper left corner to give Tonganoxie (2-2-1) a 1-0 advantage early.
Following the goal, the Chieftains' approach became much more conservative the remainder of the first half as they only took one more shot and PLHS led, 4-3, in shot attempts at the half.
That finally changed late in the second half. THS took six of its seven second-half shots in the final 15 minutes.
Finally, in the 79th minute, senior captain Marcus Titterington rolled a pass between some PLHS defenders and hit John Lean in stride for an easy score to give the Chieftains breathing room with just more than a minute to play.
Although Parrino, Titterington and Matt Briggs were the only THS players to take shots in the first half, in the final 40 minutes Lean, Titterington, Dylan Olson, Evan Stilgenbauer, Briggs and Tyler Bartholomew all found shot attempts.
Tonganoxie goalkeeper Keaton Truesdell recorded his second shutout of the season in the victory and finished with four saves.
At 4 p.m. Tuesday, the Chieftains play at Turner, in Kansas City, Kan.