As anniversary approaches, Basehor-Linwood eighth-graders discuss 9/11 attacks for first time in school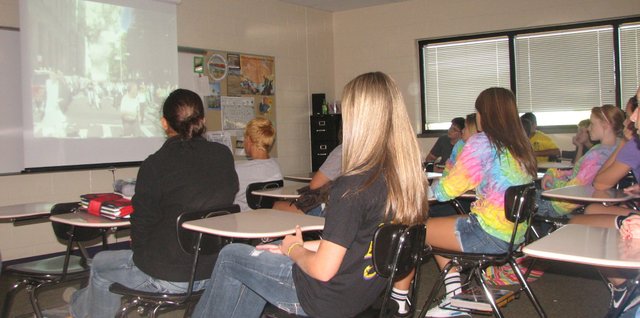 All Gabrielle Ross remembers from that day 10 years ago was that her mother picked her up early from daycare.
"I was asking her, like, 'What's going on?' " Ross said. "And she wouldn't say anything."
Thursday, in the back of the classroom, she wiped tears from her eye and hugged a classmate.
Half an hour earlier, teacher Matt Johnson had told the classroom full of eighth-graders that they wouldn't be having a study hall as usual during today's seminar period. Instead, they would be watching some YouTube clips designed to help them understand the significance of the date "9/11" and the 10th anniversary coming in a few days.
"It's...It's kind of much," Johnson told them. "It's a lot to take in."
All across Basehor-Linwood Middle School at the end of the school day Thursday, teachers were showing these videos to students who were, at the oldest, 3 or 4 years old on Sept. 11, 2001.
Johnson, a history teacher, said that discussion of 9/11 is not scheduled in the district's curriculum until high school, but these videos and subsequent discussions were meant to give them an idea of why Americans would commemorate the 10th anniversary of the Sept. 11 terrorist attacks on Sunday. This was likely the first time these students have talked about the attacks in much detail in school, he said.
Before the students in Johnson's classroom watched the first of three videos on the projector screen, reading teacher Tom Cooper, who brought his students into the room as well, remembered his experience 10 years ago at the old BLMS building in Linwood.
"You guys were so young, you probably don't remember," Cooper said, "but Mr. Johnson and I, we watched it live, and my class actually saw one of the towers drop."
During the first video the students watched, consisting of news footage of the attacks, Johnson and Cooper pointed out details: the desperate waving of people trapped at the top of the World Trade Center towers, the clouds of smoke that engulfed Manhattan, and the firefighters charging into the towers without knowing they would soon collapse. The students sat in silence.
Johnson told the students how he felt that day as he drove home from the school.
"I was mad," Johnson said. "Of course I was sad and upset and all that thing, but I was mad that these people, the terrorists, had attacked us. And they attacked civilians, innocent civilians, just getting up and going to work."
Two other videos, both public service announcements, followed: one that addressed ethnic and religious tensions that arose after the attacks, and one in which people stated how they would commemorate the anniversary on Sunday.
After class, eighth-grader Gabrielle Ross said the video of the attacks had been hard to watch, and it made her think of all the people who had lost family members and friends that day.
"I was just going through fear and sadness," she said, dabbing at her eyes.
She said Sunday would be an emotional day.
Like Gabrielle, classmate Jake Schneider said he had no memory of the attacks occurring, and this was the most he had watched or talked about it, even though he lived in New York state in 2001.
"It made me think that we should celebrate the day Osama bin Laden died," Jake said.
As Gabrielle, still sniffling, walked out of the classroom, Johnson asked her: "You OK? You gonna be all right?"
She nodded.
"OK," he said.