Piper scores late to beat Chieftains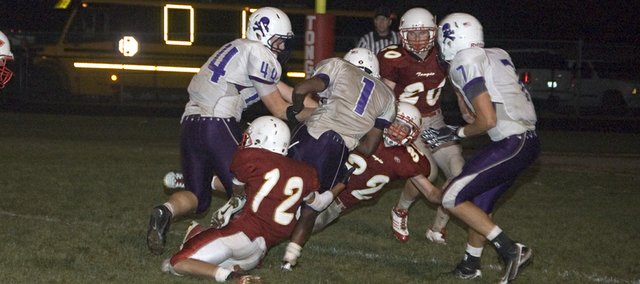 In need of a successful two-minute drill at Beatty Field Friday night against Piper High, the Tonganoxie football team came up just short.
The Pirates' go-ahead score with 1:50 left in the fourth quarter was the difference in a 21-17 defeat of the Chieftains.
THS led by three before PHS junior running back Matt McDonald crossed the goal line with less than two minutes to go.
Piper (1-1 overall, 1-1 Kaw Valley League) sent the ensuing kickoff out of bounds, giving Tonganoxie (1-1, 1-1) the ball on its own 35-yard line with 1:50 to play.
In a seven-play, 1:20 span, junior THS quarterback Garret Elston directed the home team down the field 55 yards by contributing a 15-yard pass to Tyler Zinser, two carries for 28 yards and a 13-yard pass over the middle to Brett Shelton before being stopped for no yards on a third-and-three on the PHS 10-yard line.
On fourth down, with 29 seconds left, a false start backed the Chieftains up five yards, setting up a fourth-and-eight from the 15. Elston tried to hit receiver Amos White on a timing pattern toward the left front corner of the end zone but the pass went over White's head and landed incomplete, ending the drive.
After Piper took its first lead of the game late in the third quarter, Tonganoxie responded with a three-play drive featuring 69 yards on the ground by running back Derek Lingo before Zinser scored on a three-yard run and the Chieftains led 17-14 with just five seconds left in the quarter.
White kicked a 30-yard field goal with 3:25 left in the third to give THS a 10-7 lead.
Lingo, who ran for 134 yards on 12 carries, scored Tonganoxie's first touchdown on a two-yard run with 8:03 left in the first half.
At 7 p.m. Friday, THS plays at Mill Valley, in Shawnee.
Piper 21, Tonganoxie 17
PHS 0 7 7 7 — 21
THS 0 7 10 0 — 17
Scoring
T — Derek Lingo 2 run. Amos White kick.
P — Jared Vogel 3 pass from Tanner Eikenbary. Parker Miller kick.
T — White 30 field goal.
P — Matt McDonald 3 run. Miller kick.
T — Tyler Zinser 3 run. White kick.
P — McDonald 6 run. Miller kick.
THS rushing: Derek Lingo 12-134, Garret Elston 14-93, Shane Levy 11-27, Tyler Zinser 10-24, Tyler Ford 1-10.
THS passing: Garret Elston 5-7-56 interception.
THS receiving: Tyler Zinser 3-36, Brett Shelton 1-13, Derek Lingo 1-7.