U.S.

Sen. Jerry Moran recalls 9/11 memories at Leavenworth ceremony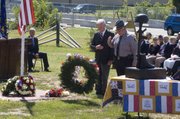 In the aftermath of the terrorist attacks of Sept. 11, 2001, U.S. Sen. Jerry Moran, then a U.S. representative, visited ground zero.
He visited a makeshift memorial people had made near the World Trade Center rubble and remembered a message written on a piece of notebook paper. The note was from a daughter to her father, saying that she missed him and hoped that she could live her life so that one day she could see her father in heaven. Moran said the message was signed by a 12-year-old named Amanda.
Moran was one of three speakers who addressed a crowd Sunday afternoon at VFW Park in Leavenworth as part of that city's 9/11 Remembrance Ceremony.
Moran also recalled being in his office near the Pentagon and feeling the building shake from the impact of Flight 77 hitting the building.
Citizens responded together to the attack and the military personnel fought for their country as a result of the attack.
"No one responded because they were Republicans or Democrats," Moran said. "No soldiers fought because of partisan politics."
Col. Wayne A. Green, garrison commander at Fort Leavenworth, also spoke, as did Leavenworth County Commissioner Clyde Graeber.
Graeber, who at the time of the attacks was secretary of the Kansas Department Health and Environment, said he and other state officials met with then-Gov. Bill Graves to discuss preparations for the state in the wake of the attack, including areas in the state that could be targets for future attacks. Graeber's response: Fort Leavenworth.
Green, who represented the fort at the ceremony, said about 9/11: "Clear, cool fall skies were interrupted by jet streams of evil. Clear skies were replaced with a clear realization that America was under attack."
About the country's response, he said, "Fear is no match for selflessness of American people."
Master of ceremonies for the ceremony was retired Lt. Col. Tom Meier, husband of state Rep. Melanie Meier, D-Leavenworth. The Leavenworth High School Junior ROTC presented the colors, while Paige Padgett sang the national anthem. Chaplain Gary "Sam" Sanford gave the invocation and bugler Jim Timmons performed taps. Several local officials participated in the laying of wreaths for the deceased at the park in downtown Leavenworth.