Chieftains' duals preparing them for tourney play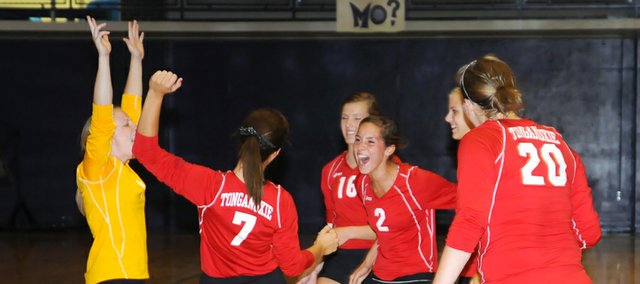 More than two weeks into its season, the Tonganoxie High volleyball team has yet to participate in a tournament, one of the game's staples.
The Chieftains haven't had to spend a Saturday in a gymnasium or beat anyone in a best-of-three match yet, but that will change this weekend when they travel to the Rossville Invitational.
By the time Saturday's tournament begins, THS (4-0) will have played six duals without logging a minute of tourney time. Tonganoxie isn't totally unique among Kaw Valley League teams in that respect, though. Co-coach Brandon Parker said each KVL program's schedule is similar to THS, because the league abandoned the KVL tournament and went to a dual format. The Chieftains will only play in three tournaments this season before sub-state.
Having so many duals, and therefore more dates on the calendar, hasn't necessarily been a bad thing either. Parker said, for instance, it has given the Chieftains a less monotonous schedule.
"You don't have to play and then practice for a week," he said.
The players are fine with the increased number of duals, too. Junior setter Hannah Kemp said playing in so many duals before going to a tournament could be advantageous for Tonganoxie.
"I personally like having duals before (a tournament) because it kind of sets us up and lets us know what we need to work on and how we're doing as a team before we actually get thrown into a tournament," she said. "(At) tournaments you might have four, five games all in the same day, all close together, and if something's not going well or we don't know what's wrong, it's kind of harder."
With all the team's duals, Kemp said, the Chieftains have been able to focus on different things that come up at practices instead of tweaking things on the fly, which is sometimes necessary at a tournament.
Parker said both the players and coaches have liked that aspect of their dual-heavy schedule. In fact, junior Jenny Whitledge expects THS to be better off in its tournament debut Saturday because of it.
"Most of the duals are preparing us for what we're gonna have in Rossville, like a faster or slower game, and kind of give us a little more experience before we jump right into a bigger tournament and have like six games," Whitledge said.
Kemp said dual matches have provided talking points as the team continues to develop. For example, coverage has been a hot topic, because the players know points aren't going to be as easy to come by when they face tougher opponents.
"It's not always just gonna keep going over the net," Kemp said. "We've got to be ready for if someone gets blocked or something goes wrong."
One of the challenges of duals, Parker said, is having to win three games, instead of the two necessary for tournament matches.
"It's a good challenge to keep your mind in the game," the coach said. "Winning three games is kind of tough."
The Chieftains' conditioning, Parker added, has been good so far this season, but he knows it will be tested further at their first tournament, when they have to play five or six matches.
"We'll see how we kind of respond then," he said, "in the third and fourth match."
Whitledge thinks the duals will have THS ready and if the schedule would've been reversed, with a tournament coming before the duals, it would have been more likely for the team to struggle or make mistakes.
"I think the way Parker set it up is perfect," Whitledge said of the schedule. "Having it (the first tournament) this week will be a lot better."
Chieftains win at Baldwin
Tonganoxie's most recent dual victory came Thursday, when THS won at Baldwin, 25-17, 21-25, 25-16, 25-14.
Haley Smith led the Chieftains with four aces, Whitledge had a team-high 22 kills, Kemp set up 19 assists, Brooklyn Kerbaugh had four blocks and senior libero Megan Hummelgaard led THS with 27 digs.
Sagan Scates finished with 15 assists and three aces and Kailan Kuzmic had 20 digs and four kills.
At 6 p.m. Tuesday, Tonganoxie will play host to Basehor-Linwood. The Chieftains have another home match — at 7 p.m. Thursday against Pleasant Ridge — before their first tournament begins at 9 a.m. Saturday at Rossville.