Mayor warns of time crunch to replace city administrator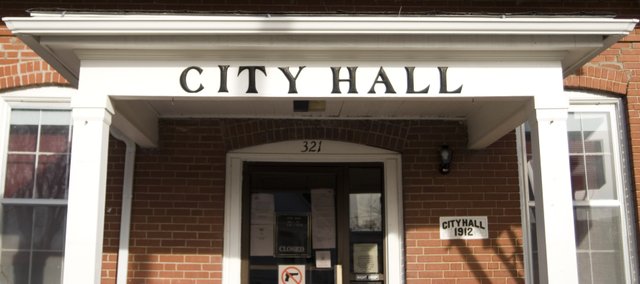 Mayor Jason Ward told the Tonganoxie City Council it faces a tight timeline if it is to hire a new city administrator before Mike Yanez's contract expires Dec. 31.
At its Aug. 22 meeting, the council voted 3-2 not to extend Yanez's contract beyond the end of the year. As he promised after that meeting, Ward started the process Monday of hiring the city's next administrator by handing out proposals from the Kansas League of Municipalities and Springsted Inc. to help the city in its search for Yanez's replacement.
In a preface to his remarks, Ward said several residents had communicated to him their disappointment with the decision and praise for the job Yanez has done for the city — a statement seconded by Councilman Jim Truesdell.
When passing out the two proposals, Ward said there was a possibility the city would not have a new city administrator hired by the end of the year and the council needed to consider how it would handle such a vacancy. He asked council members to read the proposals for discussion at their Sept. 26 meeting.
There were differences in the proposals with Springsted's being greater in scope and more expensive, Ward said.
For $4,499, the league will assist the city in creating a job description, conduct a salary survey, help write an ad, place the ad, review resumes, recommend candidates for interviews, check references and backgrounds and notify all candidates when the position is filled.
Springsted's proposal would have the firm doing all that with more direct involvement with the city for such things as candidate presentation, interviews and contract negotiations. But it would come with a cost. Should the city council choose the firm from the start of the process through contract negotiations, it would be billed $8,500. For an additional $2,000, Springsted would be available for discussions involving performance issues and would also commit to finding a replacement at no charge to the city should the selected candidate move on or be fired within a year.
In other action, the council:
• Learned from Councilman Dennis Bixby that the citywide cleanup was scheduled for 8 a.m. to 4 p.m., Saturday, Oct. 15. There was still a need for volunteers for the event, he said.
• Approved adoption of the U.S. Federal Highway Administration's visual nighttime inspection methods and approved a contract with National Sign to purchase $15,000 of new stop and street signs plus posts and hardware.
• Approved purchase of four water valves for $14,150 from Water Products Inc. that will allow the city to replace defective fire hydrants with no disruption to customers.
• Approved K.C. Construction Inc.'s lining of 3,870 feet of sewer line to seal cracks from $95,880.
• Approved the hiring of part-time police officer Anthony Schuberger as a full-time officer.