McLouth Threshing Bee's 54th installment starting a month later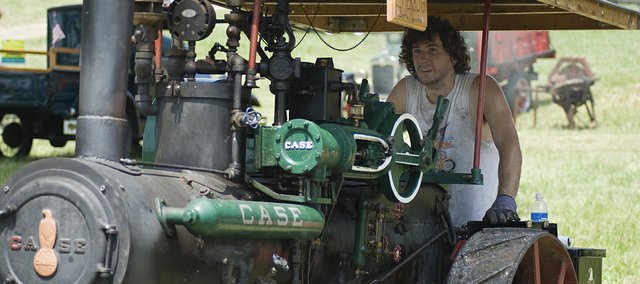 The McLouth Threshing Bee is on the move — at least on the calendar.
The 54th annual bee continues to thrive at its grounds south of Kansas Highway 16 in McLouth, but the threshing bee is in September this year instead of August, when it has normally taken place.
In an effort to avoid scheduling it during county fair season — the Jefferson, Douglas and Leavenworth county fairs all take place at roughly the same time — and to possibly have better weather, the bee was moved to September.
This year's bee takes place Friday, Saturday and Sunday.
"Last year, half of us ended up with heat exhaustion," said Angie Cammack, threshing bee treasurer, about organizers who put in long hours at the weekend event.
By Cammack's research, the McLouth Threshing Bee appears to be one of the longest running bees in the country.
The event kicks off Friday with steam threshing demonstrations at 10 a.m. and 2 p.m., and the saw mill will run throughout each day of the threshing bee. The demonstrations will be at 10 a.m. and 2 p.m. on Saturday and Sunday as well. The McLouth Kiwanis Club will be serving breakfast from 7-10 a.m. each morning, and visitors can check out a flea market all three days.
New this year is the antique and classic tractor pull taking place at noon Saturday instead of its normal time slot on Friday. The saw mill features a new blade, Cammack said.
Here is a list of other events planned:
Friday
• Antique and Classic Tractor Ride, the third annual benefit ride for the Jefferson County Historical Society. For more information, contact Charlie Luse at (913) 774-2759.
• The band Ninety 2 Nothin' performs, 8 p.m. for a patio dance.
Saturday
• Annual Parade of Power, 11 a.m. on the track.
• Kids' Pedal Tractor Pull, 5 p.m.
• County Road 5 performs, 8 p.m. for a trackside concert and dance.
Sunday
• Garden Tractor Pull, 1 p.m. on the track.
• People's Choice Tractor Contest winners also presented at that time.
The People's Choice Best in Show contest is a new feature this year, Cammack said, and in addition to the saw mill and steam threshing demonstrations, there will be corn huskers and rock grinders on display.
With the threshing bee moving to September, organizers have opened the bee up to school field trips. For the first year, McLouth fifth-graders will take a field trip to the grounds on Friday.
Students will see several types of tractors, including Minneapolis-Moline tractors, the featured tractor for this year's threshing bee.
The weather certainly has cooled down in recent weeks, and Cammack hopes it's more of the same this weekend.
"We'll be in heaven," Cammack said, referring to the possibility of a repeat of last week's weather.
Admission is $5 for all three days, with youths 10 and younger and exhibitors being admitted for free. Coolers are admitted for $5 each, but no glass bottles are allowed.
An overnight camping site is available with bathroom and shower house facilities at the grounds. Campers will need to provide their own generators, as electricity will not be available.
Cammack said she's received inquiries about camping from as far away as Texas and Colorado.