Past readies
THS

soccer for present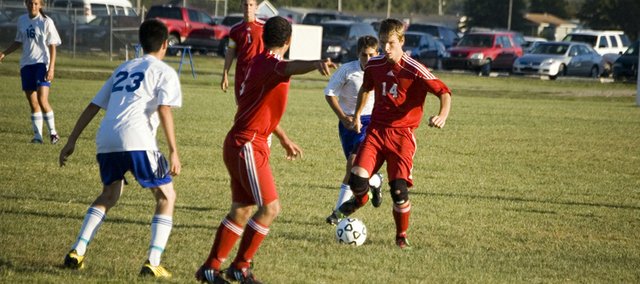 Photo Gallery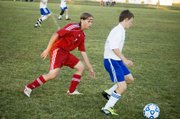 Tonganoxie soccer shuts out PLHS
The Tonganoxie High boys soccer team scored a 2-0 victory on the road Thursday at Perry-Lecompton.
Perry — The last time Tonganoxie High's boys soccer team played at Perry-Lecompton, the stakes were much higher, but a winning result Thursday against the Kaws didn't lack significance.
Returning to the site where their unpredictable playoff run began in 2010, the Chieftains tried not to dwell on the past while simultaneously learning from it in a 2-0 road victory.
THS coach Brian Kroll didn't once mention last year's playoff win at PLHS as his team prepared for its fifth match of the season. Still, the win brought up some unmistakable similarities between this season and last.
For starters, much like a year ago, Tonganoxie's poor luck with injuries reared its ugly head. It was a rash of ailments last year, in part, that led to a one-win regular season for THS. When the Chieftains (2-2-1) faced Perry-Lecompton Thursday, Conner Kietzmann was officially out for the season with torn ligaments in his left knee. Matt Saathoff was unavailable due to a broken bone in his hand and will be out at least two weeks. Plus, forward John Lean's minutes were limited as he recovers from a severe bruise on his right foot.
Senior captain Matt Briggs was one of the wounded players who missed a large part of the '10 season. Briggs sympathized with Kietzmann, adding that Kietzmann's injury was "way worse" than what he went through.
As ailments mount, Briggs said, it is easy to notice where the holes are on the field, but he hoped Tonganoxie would be better equipped to deal with such blows now because of going through a similar stretch the previous year.
"I think we know how to deal with the emotions of it," Briggs said.
However, Kroll said missing key players won't be any easier this time around.
"Imagine a six-cylinder motor running on four cylinders," he said. "I want my team. Give me my team and we'll hang with just about anybody."
Goals by Joseph Parrino and Lean gave THS its second win of the season. With victories over Perry and Basehor-Linwood, the Chieftains have now defeated the exact same teams they did last year in their 3-15 season that featured two victories over PLHS.
That poses a question: Does Tonganoxie feel good about its ability to beat other teams on the schedule?
Said Kroll: "Once we get everybody back and healthy, yes."
The second-year coach said playing with missing pieces is like painting with just three colors.
"I need a full palette of colors to be able to paint the appropriate masterpiece," he said.
As for the players, the lack of wins against other teams hasn't hurt their confidence. Parrino said, even with injuries, Tonganoxie has a better chance to win more matches this season.
"We feel like we're better equipped," he said. "We have less injuries than we did last year and we have a good squad."
Even in the team's losses this year, Briggs said, there have been small positive signs that have given THS confidence.
Another good sign came in Thursday's road win. Kroll had focused a lot of practice time on possession and he wanted to see the Chieftains use a more controlled, disciplined approach in a match instead of going for the "home run" ball.
Though Parrino's score, just 1:39 into the match, was closer to the four-bagger mentality the coach didn't want to see, after that THS displayed patience in passing and didn't aggressively look for shots for the rest of the first half.
"I didn't want a shot, but for whatever reason they weren't taking one either," Kroll said.
That finally changed late in the second half. As possession and control became stronger, the Chieftains couldn't help but find open scoring chances.
"You noticed," the coach said, "once we started to set up and possess, we started to do really well."
When senior captain Marcus Titterington moved up from defense, THS really started rolling. Kroll said Titterington created plays up front, which was exactly what the team needed with a slim 1-0 lead.
In the 79th minute, Titterington led Lean into the box with a soft pass and Lean struck the ball cleanly for a goal.
Briggs said that score had been a long time coming.
"You've been trying to work the ball and you finally get it," the senior captain said. "Also, we've been trying to get John a goal and he's been having multiple shots, so it's just a huge confidence booster for him. Now that he has one, I'm sure that he wants multiple others."
To make this season different from — and better than — last year, the Chieftains will need to find some more wins.
Even as they deal with injuries, Kroll said he is simply asking the players to give him all that they've got.
"Do the best you're capable of doing," he said, "and we'll get the outcome that's supposed to happen."