THS

football coach laments early mistakes in last-minute loss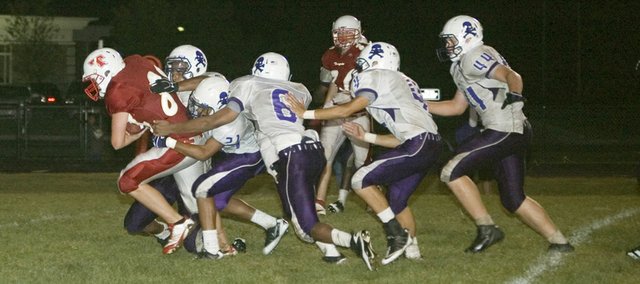 Photo Gallery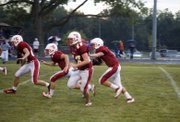 Piper football 21, Tonganoxie 17
Tonganoxie High's football team suffered its first loss of the season on Friday at home against Piper. The Pirates won, 21-17.
Piper High might not have taken the lead for good until the final two minutes Friday night at Beatty Field, but according to interim Tonganoxie football coach Matt Bond, it was earlier mistakes that cost the Chieftains.
THS lost, 21-17, after Pirates running back Matt McDonald rushed for a touchdown with 1:50 left on the clock and Tonganoxie's responding drive ended with an incomplete pass from Garret Elston to Amos White on fourth-and-eight from the PHS 15-yard line.
"The timing was off just a little bit," Bond said. "Amos had a good route and Garret set up nice and just got rid of it a little bit too early. It was there. It was one of those things."
Still, Bond said Tonganoxie didn't lose the game in the final minutes.
"I thought it kind of started a little bit before that last drive," he said, noting outcomes are usually decided on five or six key plays during a game. "We kind of shot ourselves in the foot a little bit. We had some opportunities to score earlier in the game and we just weren't able to put it in."
Though senior running back Derek Lingo helped THS (1-1 overall, 1-1 Kaw Valley League) to a 7-0 lead in the second quarter with a two-yard TD, two of the Chieftains' four first-half possessions ended with an Eric Tate punt and another closed with an Elston fumble.
The second half began with more promise for Tonganoxie when its first drive culminated with a 30-yard field goal by White and, on their next possession, the Chieftains answered a Pirates touchdown drive by going 72 yards in three plays to take a 17-14 lead with five seconds left in the third quarter following a Tyler Zinser three-yard rushing TD.
However, Tonganoxie's next drive ended when PHS defensive back Paul Jones picked off an Elston pass and the game essentially came to a close (with 26 seconds left) when the home team's final drive came up short with a turnover on downs.
Though disgruntled following the loss, senior linebacker Ryan Lynch, who had a team-leading 16 total tackles, said his team wouldn't be discouraged because of the four-point loss.
"We'll bounce back," Lynch said. "It's not something we can't fix."
Lingo tried to remain upbeat after the KVL loss to Piper (1-1, 1-1). He said he saw a lot of guys step up, and the passing game improved — a week after the Chieftains had no pass completions in their opener, Elston was 5-for-7 with receptions by Lingo, Zinser and Brett Shelton.
"It's definitely tough, especially being our home opener, but it had its ups and downs. Second game's always your most improved week," Lingo said. "It was a gain and a loss at the same time."
THS was a last-minute touchdown away from a victory, despite the absence of a few key players.
Senior linebacker Thomas Miller, as well as sophomore backs Cole Holloway and Joe Wolf, were out with injuries, and junior defensive end Julius Coats had to sit out with a one-game suspension following his ejection from the season opener at Bishop Ward.
Lynch said his teammates did what they could to replace the would-be starters.
"We had good replacements," Lynch said. "Everyone is ready to step up at any time."
Defensively, Bond noted, freshman Jared Sommers and sophomores Tyler Ford and Tate stepped in on defense, while Ford and Zinser had increased roles on offense. Plus, Tyler Gonser came in late to play some defensive end when Dallas Jacobs got banged up.
"We were really pleased that all week long we didn't make excuses," the interim coach said. "Nobody talked about the fact that we were probably missing three of our better athletes."
The schedule gets a little tougher this week as THS prepares for a 7 p.m. Friday date at Class 5A Mill Valley, in Shawnee.
Lingo said the team will remain positive and continue to improve.
"We're gonna do the same thing we did this week," Lingo said, "get a good scout (report), go in with our heads up, not look back or make excuses."
Piper 21, Tonganoxie 17
PHS 0 7 7 7 — 21
THS 0 7 10 0 — 17
Scoring
T — Derek Lingo 2 run. Amos White kick.
P — Jared Vogel 3 pass from Tanner Eikenbary. Parker Miller kick.
T — White 30 field goal.
P — Matt McDonald 3 run. Miller kick.
T — Tyler Zinser 3 run. White kick.
P — McDonald 6 run. Miller kick.
THS rushing: Derek Lingo 12-134, Garret Elston 14-93, Shane Levy 11-27, Tyler Zinser 10-24, Tyler Ford 1-10.
THS passing: Garret Elston 5-7-56 interception.
THS receiving: Tyler Zinser 3-36, Brett Shelton 1-13, Derek Lingo 1-7.