Tonganoxie volleyball outplayed by visiting
BLHS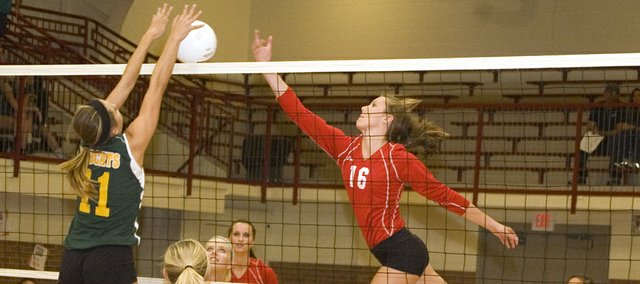 Tonganoxie High's volleyball team got a bit of a surprise Tuesday at home — and not in a good way.
The Chieftains, after looking fairly comfortable against Basehor-Linwood in a first-game win, dropped three straight to the visiting Bobcats and lost their first match of the season, 23-25, 27-25, 25-14, 25-22.
THS co-coach Brandon Parker acknowledged a team can get in a rut sometimes, but to do so at home against a league rival was unexpected.
"I'm kind of surprised that it happened tonight," Parker said of the team's first poor performance of the year. "We kind of laid down and took it tonight."
Tonganoxie (4-1) battled with BLHS in the second game. After the Bobcats took a 24-21 lead, the Chieftains called a timeout and came back with three consecutive points, getting two of them on Jenny Whitledge blocks.
When Basehor regained the lead, 25-24, THS responded once more, with Hannah Kemp setting up Whitledge for a tying kill.
But BLHS scored the next two points, seemingly knocking the wind out of the Chieftains, who lost the next two games.
Senior Brooklyn Kerbaugh said Tonganoxie didn't respond when Basehor stepped up its game.
"After they showed us something," Kerbaugh said, "we kind of shut down and that's not how we usually are."
The Bobcats won game three easily and even though THS took a 19-14 lead in the fourth game, the visitors scored 11 of the next 14 points to close out a road win.
Parker said BLHS was at its best and Tonganoxie was not.
"We didn't click all night," Parker said. "We were passive and we definitely weren't at our best."
On a night that Basehor played with more energy, Parker said, the Chieftains didn't have much working for them. Notably, the coach said the THS defense was slow and its service was no where near where it had been in the team's 4-0 start.
"We were absolutely horrible tonight in serving," Parker said. "The definition of horrible was our serving tonight, and our kids know it."
Kerbaugh said Tonganoxie wasn't expecting to lose, especially in that fashion, but the players' lack of proper preparation really came back to bite them against BLHS.
"This week, we haven't been practicing the way we should be," the senior said.
Parker agreed.
"Honestly, we've been absolutely horrible in practice and our kids know it," he said. "We haven't practiced well in a week and this is what happens."
The Chieftains will have one day of practice before taking their home court again at 7 p.m. Thursday against Pleasant Ridge. Kerbaugh said it will be up to the players to right the ship.
"We're gonna have to come out and have our own mindset," Kerbaugh said. "Our coaches aren't gonna set the pace of the practice. We're gonna have to be mature about it and we're gonna have to come out and want to work."
If they do those things, she added, the Chieftains should be ready for Thursday's home match.