Mill Valley scores 9 TDs in romp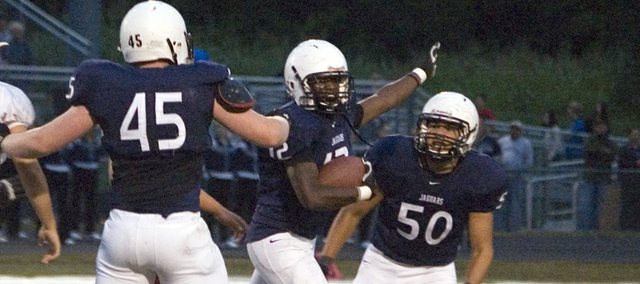 Had the Tonganoxie High football team been flawless and injury-free Friday at Jaguar Stadium, it likely still would have been tough for the Chieftains to knock off Mill Valley.
With four turnovers and three key players getting hurt against Class 5A MVHS, 4A THS didn't have a chance in a 63-15 thrashing.
It took a little while for the Jaguars (3-0 overall, 3-0 Kaw Valley League) to get rolling, but once they did there was no stopping them.
After jumping out 21-0 by halftime — with two of three touchdown drives coming after takeaways — Mill Valley junior Staton Rebeck scored all three of his team's third-quarter touchdowns and put Tonganoxie (1-2, 1-2) in a 42-8 hole entering the fourth.
Having scored five total touchdown in the first three quarters, Rebeck wasn't needed in the fourth quarter, but MVHS kept putting more points on the board, with two touchdown runs from sophomore running back Nick Wilson and a 78-yard kickoff return TD by junior Alec Donn.
The Chieftains lost the ball three times in the first half, when Mill Valley's Justice Oehlert picked off a pass, Marcus Grant forced a fumble and recovered the ball on a sack and, finally, a pile of MVHS defenders jumped on a loose ball. But just as costly for THS was the loss of three starters — quarterback Garret Elston (concussion), running back and safety Derek Lingo (concussion) and center and linebacker Jonas Myers (shoulder) — to injury.
In their absence, Tonganoxie finally reached the end zone with 4:33 left in the third quarter on a drive powered by a 17-yard rush by sophomore running back Shane Levy and a 37-yard carry by backup quarterback Tyler Ford, also a sophomore.
On fourth-and-goal from the eight-yard line, Ford put a quick pass to the right side into the arms of senior receiver Amos White just as the wide out crossed the goal line.
Mill Valley then scored 28 unanswered before the Chieftains got a second touchdown with 6:00 to go in the game when sophomore Noe Puebla found some room to operate on the right side on a kickoff return and navigated his way through the Jags' kickoff team for a 92-yard score.
Junior MVHS defensive back Jake Theis had a fumble recovery and THS sophomore Wyatt Weeks intercepted a pass.
On Friday, Mill Valley travels to Bishop Ward, in Kansas City, Kan., and Tonganoxie plays host to Turner.
Mill Valley 63, Tonganoxie 15
Score by quarters
THS 0 0 8 7 — 15
MVHS 7 14 21 21 — 63
Scoring
M — Wade Hanna 20 pass from Skyler Windmiller. Andrw Wesp kick.
M — Staton Rebeck 1 run. Wesp kick.
M — Rebeck 48 pass from Windmiller. Wesp kick.
M — Rebeck 23 run. Wesp kick.
T — Amos White 8 pass from Tyler Ford. Ford run.
M — Rebeck 5 run. Wesp kick.
M — Rebeck 18 run. Wesp kick.
M — Nick Wilson 1 run. Wesp kick.
M — Wilson 32 run. Wesp kick.
T — Noe Puebla 92 kickoff return. White kick.
M — Alec Donn 78 kickoff return. Wesp kick.