THS

soccer cruises to 7-0 victory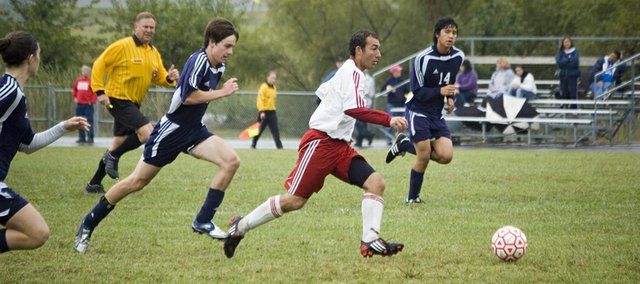 A little rain wasn't going to stop Tonganoxie High's boys soccer players from enjoying their Saturday afternoon.
The Chieftains and visiting Eudora were soaked in the first half but the rain didn't seem to bother — and definitely didn't slow down — THS as it rolled to a 7-0 home victory.
Senior Joseph Parrino scored a hat trick in the win and junior John Lean added two more goals for Tonganoxie (4-3-1), which surpassed last season's win total at the midway point of the regular season with its fourth shutout victory of the year.
Both Lean and Parrino scored to give the Chieftains a 2-0 lead and junior captain Zack Tallent added to the first half scoring in the 36th minute by scoring one-on-one versus Eudora's goalkeeper.
With a comfy 3-0 lead entering the second half, THS didn't let up or lose focus. In fact, the home team dominated possession and put three more goals in the back of the net in the first eight minutes of the second half.
Less than a minute removed from halftime, Parrino scored his second goal of the match by controlling the ball at the top of the box when it was up for grabs and slipping it into the lower left corner for a 4-0 Tonganoxie lead.
Less than six minutes later, in the 47th minute, Lean got the ball in the box and maneuvered to an opening before skipping the ball along the ground and into the bottom left side.
Just 56 seconds later, Parrino controlled the ball after it ricocheted off an EHS defender about 10 yards out and pounded it over top of the Cardinals goalkeeper for his third score of the afternoon.
Tonganoxie scored its seventh goal of the match with its second unit on the pitch and just 1.8 seconds left on the clock. Junior Jeremy Fox found an open look near the top of the box and shot it into the left side of the net with virtually no time remaining.
The victory was the second straight shutout for THS goalkeeper Keaton Truesdell and the defense.
At 6 p.m. Monday, the Chieftains play at Mill Valley, in Shawnee.