Chieftains boys soccer kicks back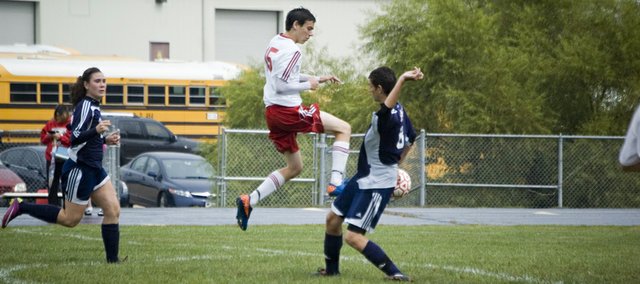 Photo Gallery
Tonganoxie soccer 7, Eudora 0
Tonganoxie High's boys soccer team shut out visiting Eudora, 7-0, on Saturday at home.
Keaton Truesdell didn't have a lot going on Saturday afternoon.
The Tonganoxie High soccer team's starting goalkeeper reported for duty as usual for a home match against Eudora, but he wasn't exactly busy.
Just three shot attempts came in the general direction of the Chieftains' junior keeper, who was, for the most part, a bystander in a 7-0 THS victory.
Not that he was complaining.
"The easiest game is the best game for a goalie," Truesdell said, "but it does get boring."
At least his Tonganoxie teammates provided some entertainment in the form of seven goals. The show started in the first half with goals by John Lean, Joseph Parrino and Zack Tallent and things really got exciting in the first eight minutes of the second half, when the Chieftains (4-3-1) added three more scores.
THS coach Brian Kroll told the players at halftime that they couldn't come out soft and slow after the break.
"We tend to let our guard down when we have any kind of a lead," Kroll said.
Instead of falling into that old trap, Tonganoxie turned things up a notch or two. Just 53 seconds into the second half, Parrino netted his second goal of the afternoon. Five and a half minutes later, Lean made it 5-0 with his second score. Before another minute ran off the clock, THS scored again when Parrino booted the ball over Eudora's goalkeeper from in the box.
Kroll actually didn't know until after the lopsided win that Parrino had managed a hat trick.
"Oh, no way. I'd have pulled him earlier if I'd known that," the coach said, noting the senior didn't need a hat trick in a blowout match.
Despite that oversight, Kroll was happy with the team's play.
"No matter what happened, as easy as it looked… they maintained their composure and continued to do what it is that we have been working on, basically since the start of the season, which is controlling the ball," he said, "possessing the ball, rather than falling back into old Tongie soccer, which is home run ball, home run ball, home run ball."
Tallent, a junior captain who scored his first varsity goal late in the first half, also was excited about Tonganoxie's ability to seamlessly move the ball around the field.
"It was nice to have a goal, but I would rather have us pass the ball and possess it than score like a billion goals this season," Tallent said.
Lean, too, was happy that the Chieftains kept on working the ball for the best available shot instead of firing away from long range.
"It was great. Not only did we have a shutout, but we pretty much dominated the whole game," the junior said. "And I had two goals. It was awesome."
As a new addition to the THS roster this season, Lean is becoming a bigger part of the team's attack as the season progresses. Kroll has noticed the junior getting increasingly excited about his role with the Chieftains.
Basically, according to the coach, Lean has a fever. And the only prescription is more goals.
"John's got a bug in him. He's enjoying scoring," Kroll said. "I kind of knew that was all it was gonna take. Once he got that bug for it, it was game on."
Both the second-year coach and Lean credited Tonganoxie's supporting cast in the rout. After scoring twice and seeing running mate Parrino put in three more goals, Lean said their teammates set them up.
"They possessed the ball to us and gave us clear, open shots at the goal," Lean said.
He marveled at Parrino's scoring touch, too.
"Joe, the kid's just an animal," Lean said. "Kid's a beast."
THS scored its seventh and final goal with just 1.8 seconds remaining in the match. With the majority of the Chieftains' starting unit on the bench, junior substitute Jeremy Fox pushed the ball into the lower left side of the net for a score.
Tallent said he and his teammates enjoyed watching that play from the sideline.
"That was just straight up tenacity," Tallent said. "He wanted the ball and he just put it in the back of the net. That was just pure heart and being where you need to be."
Kroll said it was excellent for Fox to experience the late scoring opportunity and turn it into a goal.
"He is going to be one that next year in the absence of our seniors is going to step up and fill the void and I think that he can do it," Kroll said of Fox. "And finishing is exactly what he needed to feel."
It was one last moment to break up Truesdell's otherwise ho-hum afternoon, which ended up being Tonganoxie's fourth shutout victory of the season.
"It's always good to win," Truesdell said.
At 6 p.m. Monday, THS plays at Mill Valley, in Shawnee. At 4 p.m. Sept. 26, the Chieftains play host to Perry-Lecompton.