Local resident, employed at Tonganoxie Nursing Center since its inception, plans to keep on for years to come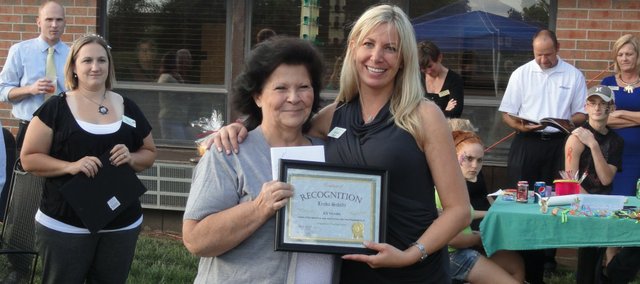 Working at Tonganoxie Nursing Center has been a family affair for Linda Schiltz's family.
Her daughter worked as an admissions coordinator, her son as a dietary aide and, after retirement from his own career in concrete work, her husband worked in maintenance before losing a battle with lung cancer in 2003.
The family connection has extended to her mother and great aunt being residents as well.
The Tonganoxie Nursing Center celebrated 25 years with an open house, music, appetizers and drinks Wednesday, Sept. 14. Attendees also celebrated Schiltz's 25 years of working at the center, which started ahead of the facility's opening. Tasks in preparing for the center's opening were washing windows, putting up curtains, landscaping and assembling furniture, to name a few.
"It went by very quickly," Schiltz said. "It doesn't seem like 25 years to me. I guess because we stay so busy and everything.
"When you really sit down and look at it, I also ask myself, 'Where did the time go?'"
Schiltz worked as a CAN for three years before working for about seven years in the therapy department as a rehab aide. An opening then came up in medical records, and Schiltz has been in that position the past 15 years. The medical records position was more conducive to her abilities after she suffered a heart attack some years ago. Because of the attack, she wasn't able to do much lifting, Schiltz said.
Before working at Tonganoxie Nursing Center, Schiltz worked at nursing centers in Oskaloosa and Eudora. For each of those jobs she commuted from Tonganoxie, where she's lived since her family moved to the community from Kansas City, Kan., when she was 14.
She also worked for Sam Leighty and then Opal Freeman at the Green Lantern, which now is Graves Dance Studio at Fourth and Green streets in downtown Tonganoxie. In addition, she worked at a dime store owned by Theta Stoner. Grant Ritchey's dental office now occupies that space.
Schiltz has seen many changes at the center in a quarter-century, including the staff size growing from 35 when the center opened to about 80 today. She spoke about the nursing center feeling like a family and the relationships with residents.
"I think just seeing the little smiles on their faces," Schiltz said, talking about some of the things she likes most about the nursing center. "They look at you with their eyes to say 'thank you.' They can't always say it, but you can see it with their face or when they're touched.
"Even though you're having a bad day, they can touch you and give you a smile and it makes it all better."
Now 63, Schiltz plans to stay on at the nursing center as long as she can.
"As long as I can get out of bed, put my feet on the floor and I can get in my car, I can be here," Schiltz said. "I will always volunteer. I can't think of doing anything else."
Schiltz continued to praise Tonganoxie Nursing Center and its ownership by Cyprus, reiterating that it feels like being part of a large family.
"When you like what you do and you like where you go, it goes so much better. But no, it doesn't feel like 25 years."