Mill Valley puts away Tonganoxie with 42-point 2nd half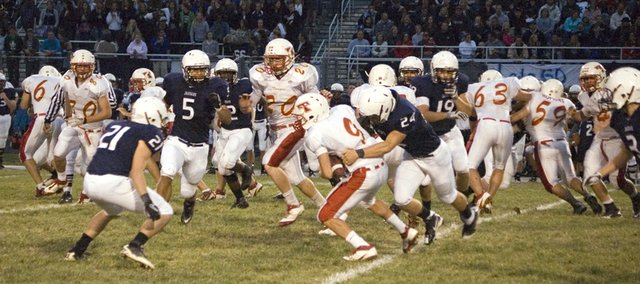 Photo Gallery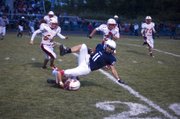 Mill Valley football 63, Tonganoxie 15
Tonganoxie High's football team only scored twice in a 63-15 road loss at Mill Valley, in Shawnee, on Friday.
Shawnee — For as long as they could muster, Tonganoxie High's football players gave Mill Valley their best shot Friday night at Jaguar Stadium.
Unfortunately for the Chieftains, they began to give out with more than 30 minutes of game clock left and MVHS went on to a 63-15 blowout win.
THS (1-2 overall, 1-2 Kaw Valley League) only trailed by seven late in the first half before the Jaguars began to roll.
The home team only needed 37 yards on a six-play drive to extend its lead to 14-0 with 3:49 left in the half, and following a fumble by sophomore backup quarterback Tyler Ford on his first touch of the evening, Mill Valley (3-0, 3-0) turned another short field into its second TD in less than a minute.
The Jaguars went up 21-0 on a demoralizing play. The THS defense forced three straight incomplete passes, with Derek Lingo and Tyler Zinser providing coverage on second down and Eric Tate covering on third down, before MVHS went for it on fourth-and-10 on the Chieftains' 31-yard line. A holding penalty negated a successful pass and the Jags, facing fourth-and-27, converted a Skyler Windmiller screen pass to Staton Rebeck, who ran to the end zone untouched for a 48-yard score.
That, THS interim coach Matt Bond said, was the turning point in the game. Only the clock at the end of each half stopped Mill Valley for the remainder of the night as the Jaguars scored touchdowns on six of their final eight possessions.
Bond said the blowout loss was challenging, but he wasn't discouraged by the Chieftains' efforts.
"The biggest learning point on a night like tonight, when you're overmatched against a school twice as big is you, is you find out kind of the character of your kids," Bond said. "You're gonna find out what their effort's like. You're gonna find out what they do when things aren't going so well and facing a bit of adversity. Those are the things that you look for."
There were a lot of positive moments for Tonganoxie in the first half, especially on defense. Although MVHS took a 7-0 lead with a seven-play drive after picking off a Garret Elston pass, the Chieftains' defense stopped the Jags on their next three possessions.
In that span, Mill Valley ran the ball nine times for only nine yards, linebacker Ryan Lynch ended a possession with a fourth-down sack, Wyatt Weeks intercepted a pass and Jonas Myers and Clayton Neas had tackles for loss.
Bond said his team's defensive efforts forced the Jags to reevaluate.
"Defensively, we did a great job," Bond said. "We got some stops. They couldn't run the ball. They totally changed their tendencies in the first half."
However, the THS offense struggled in the meantime. Elston was sacked and fumbled to end the Chieftains' second drive of the game and Tonganoxie went three and out on its next two possessions, which netted a combined seven yards.
"We didn't do anything offensively and that's what hurt us," Bond said. "We couldn't get any first downs, run the clock, get a little field position."
To make matters worse, by halftime the Chieftains had lost three starters — Elston, Myers and Lingo — to injury. And they already were playing without would-be starters Cole Holloway, Joe Wolf and Thomas Miller.
Sophomore running back Shane Levy, who ran for 57 yards on a team-high 13 carries, said THS couldn't afford those types of injuries to key players.
"It's not fun, it's not good," Levy said. "You just have to deal with it and just move on. You can't worry about it."
Tonganoxie moved on with a very young backfield. Ford, a sophomore, played quarterback and had Levy, freshman Jared Sommers and sophomore Luke Carey as his primary running options.
Bond said he tells the young players each week that they always need to be ready in case of a situation just like this.
"It's difficult, but that's the nature of athletics," Bond said. "That's why we rep those kids and get the young guys on the team ready to play."
The Chieftains finally reached the end zone with 4:33 left in the third quarter. Every play for positive yardage on the drive came courtesy of a sophomore. Levy ran for 17 yards to pick up a first down. Then Ford kept the ball and went 37 yards to get THS inside the MVHS 10-yard line. On fourth-and-goal, Ford hit senior receiver Amos White for a touchdown.
The Chieftains only picked up one first down in the rest of the game, though, and got their final TD on special teams with 6:00 to play in the fourth. That's when Noe Puebla found some running room on a kickoff return and went 92 yards for a touchdown, making it 56-15.
At 7 p.m. Friday, Tonganoxie plays host to Turner (1-2, 1-1) at Beatty Field.
Mill Valley 63, Tonganoxie 15
Score by quarters
THS 0 0 8 7 — 15
MVHS 7 14 21 21 — 63
Scoring
M — Wade Hanna 20 pass from Skyler Windmiller. Andrew Wesp kick.
M — Staton Rebeck 1 run. Wesp kick.
M — Rebeck 48 pass from Windmiller. Wesp kick.
M — Rebeck 23 run. Wesp kick.
T — Amos White 8 pass from Tyler Ford. Ford run.
M — Rebeck 5 run. Wesp kick.
M — Rebeck 18 run. Wesp kick.
M — Nick Wilson 1 run. Wesp kick.
M — Wilson 32 run. Wesp kick.
T — Noe Puebla 92 kickoff return. White kick.
M — Alec Donn 78 kickoff return. Wesp kick.
THS rushing: Tyler Ford 5-83, Shane Levy 13-57, Garret Elston 6-16, Luke Carey 5-8, Derek Lingo 1-2, Tyler Zinser 5-minus-1, Carl Hecht 1-minus-five, Jared Sommers 4-minus-6.
THS passing: Tyler Ford 2-5-16, Garret Elston 0-1-0 interception.
THS receiving: Amos White 2-16.