Etched into the record book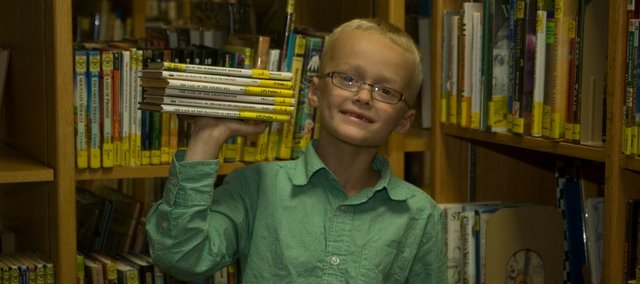 Caden Phillips has his sights set on reading 1,000 books.
The Tonganoxie Elementary School second-grader is well on his way.
During his first-grade year, Caden, who is 7, read 825 books. It's a number he finds to be dandy, considering it surpasses that of his older brother, Blake, who read 700 books as a first-grader. Blake now is a fifth-grader at Tonganoxie Middle School.
It's been Caden's goal for some time to break his brother's lofty number. Caden said he wasn't sure how many books he averaged reading in a day, but noted he read 25 on one particular day.
According to Caden, there was a bit of a sibling rivalry.
"He's jealous," Caden said about Blake.
But Blake had a different tone when asked about his younger brother's feat.
"Well, he's a pretty good reader and I just wanted to keep my record alive, but he just kept going forward," Blake said. "He just wanted to beat my record no matter what.
"I have to admit, he's really good at reading. He reads two or three books a night."
Sibling rivalry aside, Caden said that if he had to pick one word to describe his older brother, it would be "nice."
Blake and Caden both had Jill Conrad as their first-grade teacher. Her students keep reading logs to keep track of what books they read. On that day Caden read 25 books, he filled an entire log sheet.
Like older brother Blake, during his first-grade year, Caden read a variety of books, including the "Diary of a Wimpy Kid" series.
Asked whether he had a favorite, Caden couldn't pick just one.
"I'm not sure," Caden said. "I've read a lot of books and they've all been really good."
Blake, meanwhile, continues to read in his spare time and said he's a fan of the Gordon Korman book "Swindle."
Caden and Blake's mother, Tonya, is director of educational programs for the Tonganoxie School district, while their father, Shawn, is a science teacher at THS and is the boys basketball coach.
Tonya said that, especially during Caden's first-grade year, she and Shawn could easily locate him on Saturdays and Sundays.
"On the weekends, he was in his room just reading, especially if the weather was bad outside," Tonya said.
Seeing both Caden and Blake take an interest in reading has been encouraging.
"We're just really proud of them both for all they've accomplished," Tonya said. "We value education and take it very seriously and instill that in our kids and the importance of it."
Though he spends considerable time reading books, Caden also has kept busy playing flag football, basketball and baseball, and he is taking guitar lessons. He also is taking tae kwon do classes, which has led to aspirations of someday being a martial arts teacher. Oh, and he also might become a school teacher.
"Well, I do want to be a lot of things when I grow up," Caden said. "I don't know what to decide."
He has plenty of time to decide on a career. In the meantime, Caden plans to keep on reading. Asked what his next goal would be after 1,000, Caden said, "Well, I'm hoping I could shoot for googolplex," a number far surpassing the billions.
After some more thought, he brought the number down a bit.
"I'm hoping I can at least shoot for 4,000 by the time I'm an adult," Caden said. "I'm pretty sure I can get it, because I have a bunch of years before I'm an adult."