Grant secures
4WD

vehicle for Meals on Wheels in Leavenworth County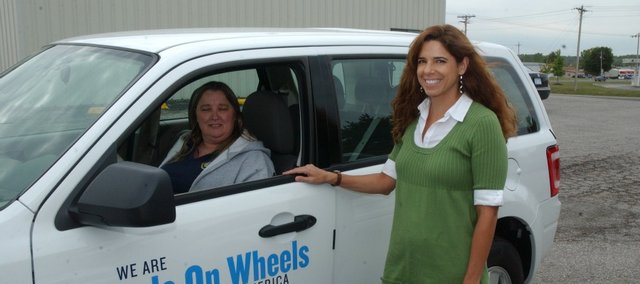 It was appropriate the new vehicle Paula Crook will use to deliver meals arrived Thursday, the first chilly day of the season.
The new Ford Escape has four-wheel drive, a feature the front-wheel drive 2001 Dodge Caravan she used on her route didn't have. And although Crook doesn't need the added traction yet as she delivers meals for the Leavenworth County Council on Aging Meals-on-Wheels program, she knows it will be welcomed once winter arrives.
"It got around pretty good, the front-wheel drive did," Crook said. "This will do a lot better."
Crook said she drives a 60-mile route each weekday to deliver meals to the homebound served in the program. In addition to its traction advantage, she will be more secure driving the low-mileage Escape, she said.
"The van had a little more than 100,000 miles on it — 102,000. This one has 50," she said, looking at the odometer of the Escape.
Julie Stark, nutrition coordinator with the Leavenworth County Council on Aging, said the Escape was purchased with grant money obtained through the Walmart Foundation and the Meals on Wheels Association of America.
"We had to come up with 10 percent," Stark said. "The grant was for just about $20,000."
Stark said she started working on the grant in February, documenting such things as the number of meals served, clients in the program and miles driven delivering meals.
"The big thing for us is we wanted something like this," she said. "When the snow hits, sometimes we can't deliver. That was the main purpose for the all-wheel drive."
With the Escape now stationed in Tonganoxie for meal deliveries, the van will be relocated to Leavenworth where it will replace a rear-wheel-drive vehicle the agency will retire, Stark said.