Worth the wait
THS

cross country boys win home invitational for first time since 2004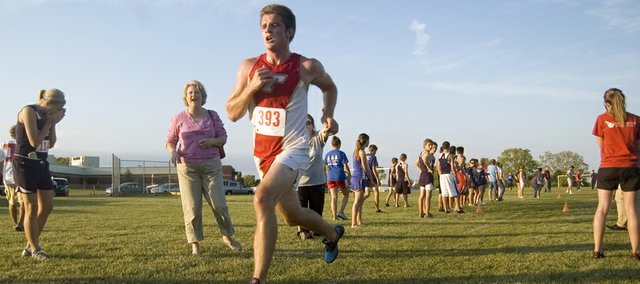 Photo Gallery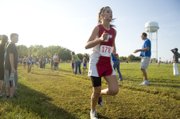 2011 Tonganoxie Cross Country Invitational
The Tonganoxie High boys cross country team won a team title and the THS girls finished third Tuesday at the Tonganoxie Invitational.
The race had been over for a few minutes Tuesday as cross country runners congregated near the medal stage following the Tonganoxie Invitational.
The boys of Tonganoxie High knew they had an individual champion at their home meet after senior Patrick Rachford raced to a personal record of 16:25, but he and his teammates were uncertain where exactly they ended up in the team standings, because the times and scores had not yet been posted.
Then senior Caleb Himpel shared with Dalton Harrington the information all of their teammates had been dying to discover: The Chieftains had won the Tonganoxie Invitational for the first time since 2004.
"No, we didn't," Harrington said in disbelief.
Rachford said he couldn't believe it either.
"I didn't want to get my hopes up and find out we got second or something," Rachford said.
Once they had a look at the results, though, they liked what they saw.
"I was ecstatic," Rachford said after becoming the first THS runner to finish first at the invitational since Alan Davis in 2000.
Their coach was excited, too, even though he was more confident in the team's ability to win the invitational.
"I thought before the race started that we had a shot," Phil Williams said, noting Wamego, one of the best teams in the state, didn't bring some of its top runners. "Our kids ran very well."
Indeed, with medals being handed out to the top 30 finishers, Tonganoxie made up 20 percent of the medalists on stage. Not only did Rachford, who won the 5K, and Harrington, who took ninth, finish in the top 10, but Jeff Neal (18th), Caleb Himpel (20th), Asher Huseman (23rd) and Clayton Himpel (27th) each secured a medal and finished within 33 seconds of each other.
Williams was pleased to see six THS runners on the medal stage.
"I was hoping we'd get one through five," the coach said. "I didn't know if our six could get up there or not."
With the knowledge that Tonganoxie hadn't won a team title in some time, the runners, Rachford said, wanted to break the six-year winless streak.
"Taking first was a great stepping stone in the right direction for us as a team," the 2011 champ said.
The Chieftains felt great, Rachford added, about their accomplishment and it should make them want to run even harder at practices. He said the ability of his teammates has been encouraging and has taken some of the burden off his shoulders.
THS went to state last season, but Caleb said the team could do even better this year.
"It just shows that our program is starting to build up some," the senior said of the first-place finish.
THS girls take 3rd
Tonganoxie's girls enjoyed a successful invitational, too, taking third place in the team standings even though they finished with the same point total as fourth-place Anderson County.
The Chieftains' best runner at the invitational, Hunter Cook, finished behind two ACHS runners. However, the home team's overall depth led to Tonganoxie winning the tie-breaker. The top five runners on each squad account for team points, but a tie is broken by looking at the finish of each team's sixth runner. Fortunately for THS, its No. 6 runner, Taylar Morgan, finished ahead of the fifth- and sixth-best runners from Anderson County.
Williams said he was pleased with the team's depth and how that helped it earn third place.
"The strength of our girls, obviously, because we don't have anyone in the top five or 10 usually at a race like this, is the pack," the coach said. "They are able to group up and run together and they did a good job of that today."
Morgan finished just 1:01 behind THS pacesetter Cook (17:10), and Emma Stilgenbauer (28th), Tressa Walker (29th), Amanda Shepley (32nd) and Halston Field (33rd) all finished within 11 seconds of one another, between 17:33 and 17:44.
Cook said keeping the pack together has been important for the Chieftains this season.
"We felt like we did really well," she said. "We had quite a few medalists. We knew that it would be tough to compete with (invitational champion) Hayden."
Cook said the overall performance of the entire Tonganoxie team impressed her at the home meet and said that was a direct result of the work which the runners have put in at practices. She said the coaches are keeping everybody in line and not letting anyone slack off.
"We're feeling like it's starting to pay off finally," Cook said.
Tuesday marked the first time since 2001 both the boys and girls from THS finished in the top three at the Tonganoxie Invitational.
On Saturday, the Chieftains will compete at Rim Rock Farm, in Lawrence.
Tonganoxie Invitational
Tuesday at Tonganoxie Middle School
Girls 4K
Team points: 1. Topeka-Hayden, 44; 2. Santa Fe Trail, 98; 3. Tonganoxie, 115; 4. Anderson County, 115; 5. Spring Hill, 123; 6. Pleasant Ridge, 127; 7. Bishop Ward, 144; 8. Kansas City Christian, 151.
Top 5: 1. Carrie Finson, Jeff West, 15:35; 2. Amanda Moody, Anderson County, 15:39; 3. Rachel Hattok, Pleasant Ridge, 15:47; 4. Frankie Oropeza, Bishop Ward, 15:51; 5. Mary Kate Franklin, Topeka-Hayden, 15:52.
THS results: 22. Hunter Cook, 17:10; 28. Emma Stilgenbauer, 17:33; 29. Tressa Walker, 17:34; 32. Amanda Shepley, 17:43; 33. Halston Field, 17:44; 42. Taylar Morgan, 18:11; 47. Alissa Donnelly, 18:26.
Boys 5K
Team points: 1. Tonganoxie, 60; 2. Santa Fe Trail, 79; 3. Anderson County, 104; 4. Kansas City Christian, 105; 5. Topeka-Hayden, 131; 6. Spring Hill, 133; 7. Pleasant Ridge, 148; 8. Jefferson County West, 156; 9. Perry-Lecompton, 205.
Top 5: 1. Patrick Rachford, Tonganoxie, 16:25; 2. Philip Hudson, Wamego, 16:29; 3. Tony Weber, Pleasant Ridge, 16:32; 4. Dawson Colglazier, Santa Fe Trail, 16:46; 5. Eli Alholm, Kansas City Christian, 16:53.
THS results: 1. Patrick Rachford, 16:25; 9. Dalton Harrington, 17:26; 18. Jeff Neal, 18:00; 20. Caleb Himpel, 18:06; 23. Asher Huseman, 18:20; 27. Clayton Himpel, 18:33; 39. Brady Field, 19:22.