Chieftains beat Ottawa for 3rd at invitational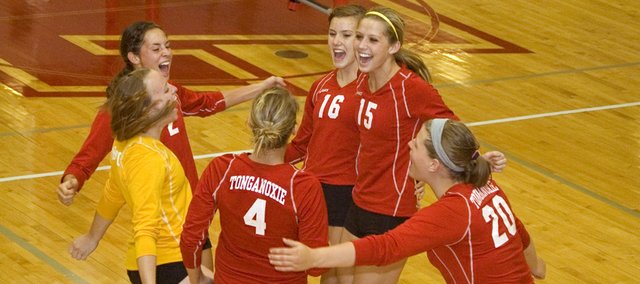 TONGANOXIE 4-2 AT INVITATIONAL
Pool Play
Bishop Ward W 25-8, 25-12
Shawnee Mission NW W 25-16, 25-17
Bonner Springs W 25-8, 25-16
Gardner-Edgerton L 25-13, 25-22
Semifinal
Olathe East L 25-22, 25-18
Third-Place Match
Ottawa W 26-24, 25-17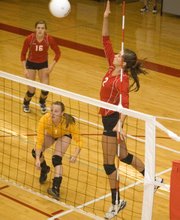 With a little added incentive, the Tonganoxie High volleyball team rebounded from losses against two of the top teams in the state to win third place Saturday at the Tonganoxie Invitational.
The Chieftains had lost their final match in pool play, against Gardner-Edgerton, and an invitational semifinal, against Olathe East, before facing a very familiar Ottawa squad in the tournament's third-place match.
Inspired by a pair of three-game losses to OHS a week before at the Rossville Invitational, THS swept the Cyclones, 26-24, 25-17, on its home court.
Tonganoxie (16-6) was up 23-21 in the first game before Ottawa scored three straight points to put the Chieftains on the brink of a loss. Following a THS timeout, though, senior Brooklyn Kerbaugh tied the match at 24 with a kill and Sagan Scates delivered an ace en route to three straight points and a win.
Riding that momentum, the second game wasn't nearly as close. Although the game was tied early on, at 8, Haley Smith's service helped give the Chieftains some separation. The senior had two aces in a 6-0 run that also featured two kills and a block from senior Kailan Kuzmic.
After Ottawa cut its deficit to 14-12, Madee Walker tipped the ball in for a point to start a key 6-1 run that finished with a block by Katelyn Waldeier.
THS scored three of its final five points on kills, with one apiece from Kerbaugh, Jenny Whitledge and Kuzmic.
Gardner-Edgerton defeated Olathe East in the championship match to with the 2011 invitational title.
Kerbaugh and Whitledge were named to the all-tournament team and senior libero Megan Hummelgaard was named Best Defensive Player.
At 7 p.m. Tuesday, Tonganoxie will have its 10th straight home match when it plays host to Lansing for a Kaw Valley League dual. The Chieftains have gone 7-2 at home this past week.