Chieftains get revenge, 3rd at home invitational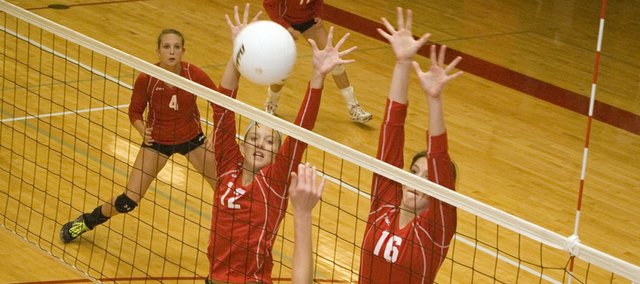 Photo Gallery
Chieftains volleyball 3rd at Tonganoxie Invitational
The Tonganoxie High volleyball team went 4-2 to finish third at its annual home tournament, the Tonganoxie Invitational, on Saturday.
TONGANOXIE 4-2 AT INVITATIONAL
Pool Play
Bishop Ward W 25-8, 25-12
Shawnee Mission NW W 25-16, 25-17
Bonner Springs W 25-8, 25-16
Gardner-Edgerton L 25-13, 25-22
Semifinal
Olathe East L 25-22, 25-18
Third-Place Match
Ottawa W 26-24, 25-17
MEDAL ROUND RESULTS
Championship: Gardner-Edgerton def. Olathe East
3rd place: Tonganoxie def. Ottawa
5th place: Bonner Springs def. Great Bend
7th place: Shawnee Mission Northwest def. Piper
9th place: Eudora def. Bishop Ward
ALL-TOURNAMENT TEAM
Maggie Bones, Ottawa
Megan Starling, Olathe East
Danie Plank, Gardner-Edgerton
Jenny Whitledge, Tonganoxie
Marissa Round, Olathe East
Jaime Birzer, Ottawa
Hannah Bettge, Gardner-Edgerton
Brooklyn Kerbaugh, Tonganoxie
Alexis Roecker, Ottawa
Courtney Will, Olathe East
BEST DEFENSIVE PLAYER
Megan Hummelgaard, Tonganoxie
MVP
Cassie Wait, Gardner-Edgerton
In the Tonganoxie High's volleyball team's version of a perfect world, it would have been playing for a tournament championship Saturday.
Instead, the Chieftains finished up at the Tonganoxie Invitational by settling for the next best thing: A much anticipated rematch.
With the sting of a pair of losses a week earlier against Ottawa still fresh in the players' minds, THS took down the Cyclones, 26-24, 25-17, to win the third-place match at the invitational.
Senior libero Megan Hummelgaard, named Best Defensive Player at the tournament, said Tonganoxie (16-6) was eager to play OHS, because on Sept. 17 at the Rossville Invitational, the Cyclones had beat THS twice and won three of the six games by a score of 26-24. It was fitting that the Chieftains won the first game of round three at their home tournament by the same score before putting Ottawa away.
"It was a big accomplishment," Hummelgaard said of defeating OHS, "and I think it was a really big confidence boost for all of us."
Senior Brooklyn Kerbaugh, named to the all-tournament team, said the Chieftains were more aware against Ottawa this time around and, of course, had a little extra drive.
"We were excited and we wanted to beat them, because obviously last weekend we lost to them twice in a row," Kerbaugh said. "We were hoping to see them in the championship game, but it'll do."
THS missed out on the title game, which was won by Gardner-Edgerton, after losing, 25-22, 25-18, to Olathe East in a semifinal.
OEHS, ranked No. 4 in Class 6A by the Kansas Volleyball Association, was a very good team, but Tonganoxie co-coach Brandon Parker said the 4A Chieftains didn't play to their full potential against the Hawks, who scored four straight points to win the first game after THS took a 22-21 lead.
"We were a little disappointed about how we came out. I think we all felt we could do a little bit more against them," Parker said. "So I think we were all a little bit down after that match."
He and co-coach Tiffany Parker didn't have to look very hard to find a motivational tool to keep the team going following back-to-back losses against Gardner-Edgerton (No. 5, 5A) and Olathe East, though.
"It probably helped us going into that last match that our opponent was somebody we narrowly lost to last week," Brandon said of Ottawa. "If it had been someone we don't even know, I don't know what happens. You get to your sixth match of the day, you just lost, you're going for third, you know you're not playing for first: That's always a weird mindset."
Clearly, the home team had incentive as a number of players helped pushed THS to win in the third-place match. Haley Smith served up three aces, including the match-winner, Kailan Kuzmic led the Chieftains with seven kills, Sagan Scates set up 15 assists, Jenny Whitledge (all-tournament) posted three blocks and Hummelgaard was successful on 10 digs.
The coaches said Hummelgaard's defense helped the team go 4-2 at the invitational.
"Megan's pretty much a stud," Brandon said, noting she kept the ball up against some serious shots from invitational MVP Cassie Wait of GEHS.
Added Tiffany: "She loves the crucial moment. She thrives."
Tonganoxie's pool play match versus Gardner-Edgerton got off to a pretty bad start, with the Trailblazers winning the first game, 25-13, but Hummelgaard said the Chieftains played much better in the second game, a 25-22 loss.
"I don't think 5A and 6A schools expect that," the senior said.
THS began its long day with easy wins against Bishop Ward, Shawnee Mission Northwest and Bonner Springs. Kerbaugh said even though the Chieftains went 1-2 against their tougher competition, it should be beneficial.
"I'm really glad we played three good teams," Kerbaugh said of OEHS, GEHS and OHS. "That helps us out a lot more."
THS grew as a team at its home tournament, Hummelgaard said, and she even remembered another reason the Chieftains were excited to beat the Cyclones.
"I think it was a good day for us," she said, "especially since last year we played Ottawa for third place and lost to them."
At 6 p.m. Tuesday, Tonganoxie plays host to Lansing.
At 5 p.m. Monday, the Chieftains play in a triangular at Kansas City-Washington with Sumner Academy.