Chieftains offense only produces 1
TD

in home loss to Turner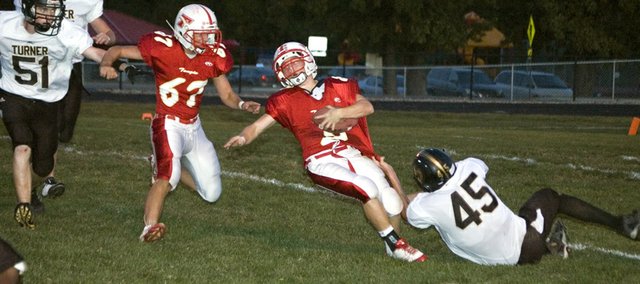 Photo Gallery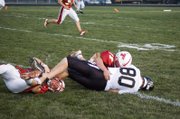 Turner football 36, Tonganoxie 6
The Tonganoxie High football team lost, 36-6, to visiting Turner Friday night at Beatty Field.
Unable to find a way to sustain drives Friday at Beatty Field, the Tonganoxie High football team's offensive struggles led to a 36-6 loss to Turner.
The Chieftains had far more first downs (13) than points and only reached the end zone on one of their eight drives — and that didn't come until the fourth quarter, with the Golden Bears already enjoying a 29-point lead.
Following the team's third straight loss, Tonganoxie interim coach Matt Bond said Turner (2-2 overall, 2-1 Kaw Valley League) was able to shut down Tonganoxie with its big defensive line.
"They did a good job. They were 6-5, 260 up front," Bond said of the Bears' size. "We had a difficult time trying to create any type of seams. They did a good job being pretty disciplined on the option and keeping their responsibilities."
Led by sophomore Shane Levy's 66 yards on 13 carries, the Chieftains (1-3, 1-3) had four players combine for 169 rushing yards, good enough for a 4.6 yards a rush average. However, the offense had trouble stringing a number of decent runs together on a single possession.
It was the fourth quarter before Tonganoxie finally broke through with a scoring drive and junior quarterback Garret Elston found senior wide receiver Amos White open for a 33-yard TD after White beat his man down the left sideline.
White said the offense just had trouble building any momentum.
"We all know we're better than that," he said.
When punts (three) and turnovers (two) outnumber scores, it makes for a long night. Chieftains junior running back Tyler Zinser said he and his teammates were very frustrated with the lack of results against the Bears.
"I mean, we work hard at practice all week, watch film, watch the way they play and then come up short," Zinser said, "can't get points on the board."
Bond said he wants to do a better job with play-calling for Tonganoxie, and he thinks doing so would help the team become more productive.
"A lot of the offensive problems are a lot of my fault," Bond said. "I have to do a better job of calling plays in a sequence that makes us successful and I'm struggling with that right now, but I'm gonna keep working at it."
Although the Chieftains have scored just two offensive touchdowns in the last nine quarters, Elston said he and his teammates know they can move the ball and they aren't worried about their recent offensive scoring woes.
"It doesn't concern us right now, because we're not completely healthy in the backfield right now," Elston said, referring to the absence of Derek Lingo, Joe Wolf and Cole Holloway, before noting freshman running back Jared Sommers did a good job filling in.
According to Bond, the offensive problems are fixable. He said the Chieftains will make some adjustments and keep working.
"We'll be fine. It's the same offense we've been running since 2000," the coach said. "It's not the offensive system, it's just about getting kids to understand and getting kids to be in the right spots."
At 7 p.m. Friday, Tonganoxie plays at Bonner Springs.
Turner 36, Tonganoxie 6
Score by quarters
Turner 8 7 14 7 — 36
Tong. 0 0 0 6 — 6
Scoring
Tur. — Paul Berry 12 run. Eric Dougherty pass from Nick Rodriguez.
Tur. — Scott Cowan 13 pass from Nick Bloomer. Rodriguez kick.
Tur. — Dougherty 10 pass from Bloomer. Rodriguez kick.
Tur. — Dennis Clark 13 pass from Bloomer. Rodriguez kick.
Ton. — Amos White 33 pass from Garret Elston. Conversion failed.
Tur. — Scott 7 pass from Bloomer. Rodriguez kick.
Ton. rushing: Shane Levy 13-66, Garret Elston 10-48, Jared Sommers 6-29, Tyler Zinser 8-26.
Ton. passing: Garret Elston 3-11-70 2 interceptions.
Ton. receiving: Amos White 1-33, Tyler Zinser 1-20, Jared Sommers 1-17.