Tonganoxie volleyball falls in
KVL

showdown
Loss to Lansing could decide league title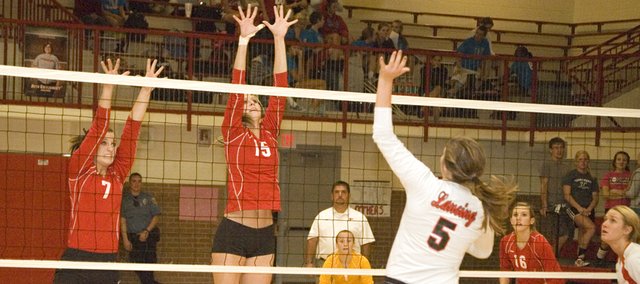 Any chance the Tonganoxie High volleyball team had of winning a Kaw Valley League title most likely vanished Tuesday night with a home loss to perennial league power Lansing.
The Chieftains shot themselves in their collective feet by often falling behind early to the Lions, who won 25-13, 25-23, 19-25 and 25-20.
"Tonight was a matter of us digging big holes and then trying to get out of them," THS co-coach Brandon Parker said.
That trend began early for Tonganoxie (16-7), which dropped to 2-2 in KVL play while Lansing remained unbeaten in league duals. LHS was up 4-0 in the first game and after the Chieftains fought back to a 6-5 deficit with blocks by Madee Walker and Brooklyn Kerbaugh and a Jenny Whitledge kill, the Lions went on a 5-0 run and kept steadily increasing their margin.
Parker said THS didn't do a good job of serve receiving in the first game, which led to an easy Lansing win.
"You just can't make that many errors when you're playing a good team," he said.
After losing the first game by 12 points, Tonganoxie came out stronger in game two, trading scores back and forth with Lansing. However, the Chieftains then hit a major rut and LHS capitalized with an 8-1 run.
THS called two timeouts in that span and during the second one, with the home team down 17-9, Parker was animated in getting after the players with an emphatic message: "Stop tipping and setting the ball over and hit it at them," he related, after the loss.
The Chieftains seemed to get his point and responded with a 7-1 run to get back in the game. They scored three points alone on aces — one coming from Walker and two straight coming from Sagan Scates — in that stretch but also started swinging for kills.
Senior Kailan Kuzmic, who delivered two kills in the run, said Parker gave the players an impassioned reminder that they needed to get back on track. And fast.
"We knew that we needed to fix things," Kuzmic said of the turning point.
Though THS would eventually tie the match at 22 with a string of kills by Kuzmic, Whitledge and Kerbaugh, Lansing scored three of the final four points to take a 2-0 lead in the match.
Again, Parker pointed to falling behind early catching up with the Chieftains.
"These are nights that you can't afford to start in a deficit," he said.
For once, Tonganoxie avoided that in the third game, and went on to win by six points. Kuzmic said the players had a better approach following the second game timeout when Parker implored them to be more assertive.
"During the second game we really started to pick up… And then the third game we stuck with our energy the whole time," Kuzmic said, noting the Chieftains didn't maintain it through the fourth and decisive game as much as they needed to.
"When we have a lot of energy," she said, "we really do well."
THS got an unexpected spark with the insertion of junior Hannah Kemp into the lineup in the third game, with Tonganoxie trailing 4-3. Parker said the coaches hadn't planned on using Kemp, who had been out since injuring her knee Sept. 17. However, because of the speed of the match, Parker said Kemp could go in as a secondary setter and pick up the ball a little quicker.
"It benefited us," he said of the move, "and Hannah has more experience in those situations."
The third game remained tight until the very end, when the Chieftains closed it with a 6-2 run that featured an ace by Haley Smith and two kills from Whitledge.
Parker said it was important for THS to win that third game.
"I think our girls actually showed quite a bit of character to come back and play hard and the last three games were tight," he said.
Unfortunately for Tonganoxie, it got into a 5-0 hole in the fourth game and although it was tied at 20, Lansing scored five straight to win the match.
Said Kuzmic: "Lansing is one of the harder teams that we play, and we've played harder teams, but we just didn't pull it out tonight."
Parker said he thought going into the match that it would be for the KVL title.
"I really thought the winner of that's the league champion, especially when we beat Mill Valley," he said.
But THS missed its opportunity.
"I would've loved to see the outcome if we didn't have the early deficits in the games we lost," Parker said. "If not for that, we're right there."
At 5 p.m. Monday, the Chieftains play in a triangular at Kansas City-Washington with Sumner Academy.