THS

play "Once Upon a Pandora's Box" continues Friday; final performance is Saturday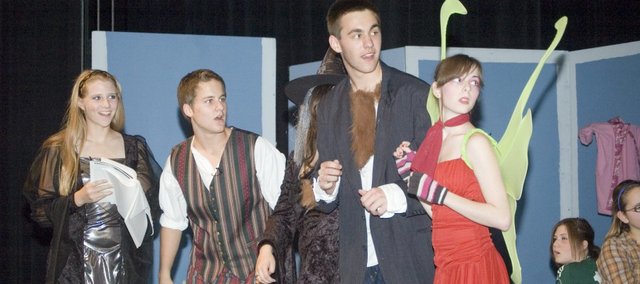 The Tonganoxie High School Drama Department is performing "Once Upon a Pandora's Box" Thursday, Friday and Saturday at the Tonganoxie Performing Arts Center.
The show is about Zeus, the god of gods, who gets bored and decides to have a little fun with several of the greatest storybook villains of all time. After tracking them down from across the globe, he places them in confinement. Meanwhile, a couple of siblings, one a budding writer and the other a pesky tom-boy, encounter both the characters of their own creation and the villains in their mid-town apartment.
The cast for the play, by Monica Flory, are Allie Packard as Tabby, Sara Krapp as Louisa, Christopher Tiner as the evil queen, Tyler O'Briant as the big bad wolf, Michael Christensen as Rumpelstiltskin, Victoria Stiles as Fairy No. 13, Mallory Harrell as the witch, Taylor Clark as Angella, Paige Lauri as Beuatella, Kelsi Briggs as Esperella, Wes Williams as Zeus, Katie Schenk as the TV reporter and Sidney Grinter as the translator/cameraperson.
Reenactment players are Matt Swaim, Kate Ebbert, Samantha White, Thomas Fox, Ali Bryant, Lauren Harrell, Bailey Gordon, Grace Reilly, Kourtni Freemyer, Samantha Jones and Megan Ebbert.
Stage managers are Allie Irick, Beth Jobst and Lauren Hughes, while booth crew is Dylan Haufler.
Steve Harrell is director and Kenneth Church is technical supervisor. Samantha White, Beth Jobst, Paige Lauri, Lauren Hughes, Victoria Sutton, Victoria Stiles and Elizabeth Andrews.
The play is 7:30 p.m. Thursday, Friday and Saturday at TPAC. Tickets at the door are $3 for senior citizens and children younger than 12 and $5 for all others.