Braves score 36 unanswered to beat Chieftains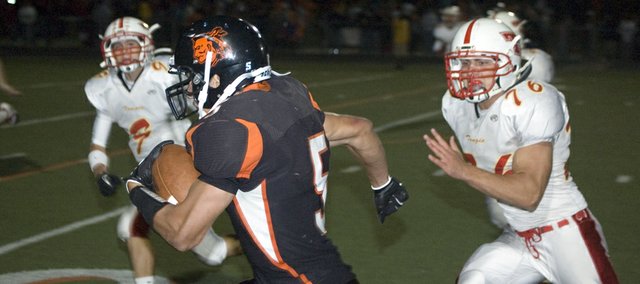 It had been three weeks since the Tonganoxie High football team last led in a game when the Chieftains entered the half with a precarious one-point advantage Friday night at David Jaynes Stadium.
Whatever enjoyment THS got out of that lasted all of 2:06 into the third quarter, when Bonner Springs regained the lead and went on to score 36 unanswered points in a 48-13 homecoming win.
With Braves senior running back JJ Jackson doing pretty much whatever he pleased every time he touched the ball, Tonganoxie dropped its fourth straight game while BSHS picked up its first Kaw Valley League victory of the season.
While sophomore Bonner Springs quarterback Jordan Jackson hit senior receiver Stevie Williams for a 37-yard touchdown pass in the third quarter, JJ Jackson accounted for each of the Braves' five other offensive scores and reached the end zone four times in the second half.
BSHS (2-3 overall, 1-3 KVL) took the lead for good with 9:54 remaining in the third quarter when JJ Jackson ran 24 yards for a TD on a sweep up the left sideline.
What transpired following that seven-play, 65-yard drive, though, is what really leveled Tonganoxie (1-4, 1-4). The ensuing short kickoff was muffed by the Chieftains and the Braves recovered the ball at the THS 33 yard line. Looking to capitalize immediately on some good fortune, Jordan Jackson dropped back for a deep pass on first down and launched the ball up for grabs at the one yard line, where BSHS senior receiver Joseph Dooley brought it down.
One play later, JJ Jackson was in the end zone again, and just like that the Braves had a 26-13 lead with 9:19 to play in the third.
With the muffed kickoff return and two fumbles late in the fourth quarter, the Chieftains finished with four turnovers in the road loss.
The first Bonner takeaway came midway through the second quarter. THS quarterback Garret Elston was on his way down to the turf when he desperately tried to pitch the football left on an option. The ball landed at the Chieftains 47 yard line, where it was scooped up by Braves senior defensive lineman Drew Hern, who returned the fumble for a TD, giving BSHS a 12-0 lead.
Tonganoxie responded to its opponent's defensive score with what proved to be its best drive of the night. After picking up three first downs, Elston found senior receiver Amos White wide open in the left side of the end zone on a third-and-11 pass for 21 yards.
The Chieftains, down 12-7, got their one break of the night on the following kickoff when the ball bounced to a stop around the Braves 20 yard line and THS seniors Ryan Lynch and Derek Lingo came crashing in after the loose ball. Lingo emerged from the pile with possession, setting up a six-play, 19-yard drive that ended with Elston firing a quick, two-yard TD pass to White with just four seconds to go in the half.
The Braves play Friday at Bishop Ward, in Kansas City, Kan.
Up next for the Chieftains is a Friday home game against Lansing.
Bonner Springs 48, Tonganoxie 13
Score by quarters
THS 0 13 0 0 — 13
BSHS 6 6 30 6 — 48
Scoring
B — JJ Jackson 24 run. Kick failed.
B — Drew Hern 47 fumble recovery. Conversion failed.
T — Amos White 21 pass from Garret Elston. White kick.
T — White 2 pass from Elston. Conversion failed.
B — JJ Jackson 24 run. JJ Jackson pass from Jordan Jackson.
B — JJ Jackson 1 run. Conversion failed.
B — Stevie Williams 37 pass from Jordan Jackson. Williams pass from Jordan Jackson.
B — JJ Jackson 10 run. JJ Jackson run.
B — JJ Jackson 47 run. Conversion failed.