Chieftain baseball gets first win of 2012, splits series with Bobcats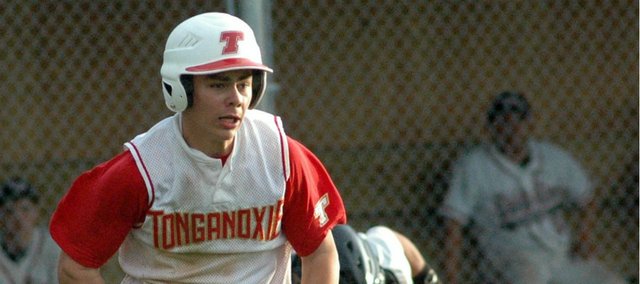 The Tonganoxie High baseball team got its first victory of the season Thursday, splitting a two-game series with Kaw Valley League foe Basehor-Linwood. The Bobcats claimed a 6-2 decision in the first game, but the Chieftains responded with a 12-4 victory in the second.
In the series opener, the Bobcats broke a 1-1 tie with a three-run fourth inning. They extended their advantage to 6-1 with two more in the fifth. THS (1-3) tried to answer, but only managed one run in the sixth.
Senior pitcher Tyler Freeman went the distance for the Chieftains, allowing five earned runs on 11 hits. He struck out six batters and walked four.
Sophomore Shane Levy led the way at the plate, going 2-for-3 with a double and a triple. Junior Cody Saladin drove in both THS runs.
BLHS led 4-2 after three innings in the second game, but this time, the Chieftains had a response. They took the lead for good on a three-run home run by Levy in the fourth inning. Any thoughts of a Bobcat comeback were erased when THS added six in the fifth and one in the sixth.
"That was huge," coach Mitch Loomis said. "Our kids took some really big swings. That gave us a lot of momentum. We got real aggressive on the bases in the second game, so that gave us a lot of confidence."
Sophomore Travis Woods picked up his first win on the mound, allowing just two runs on six hits in seven innings. He struck out three and walked two.
"We really emphasized the strike throwing," Loomis said. "Tyler and Travis, they don't throw for a lot of power, but they both put it around the zone."
In addition to his homer, Levy added a double, a triple to pace the Chieftains. He finished with six runs batted in.
THS was back in action Tuesday when it played host to Jeff West. A recap is available on The Mirror's website.
Game 1
THS 010 001 0 — 2
BLHS 100 320 X — 6
Leading hitters: Shane Levy 2-3, 2B, 3B; Cody Saladin 1-3, 2 RBI.
Game 2
THS 002 361 0 — 12
BLHS 022 000 0 — 4
Leading hitters: Shane Levy 3-5, 2B, 3B, HR, 6 RBI; Ben Williams 2-5, RBI; Austin Harkrader 2-5, RBI.