First customers cheer Orscheln's opening in Basehor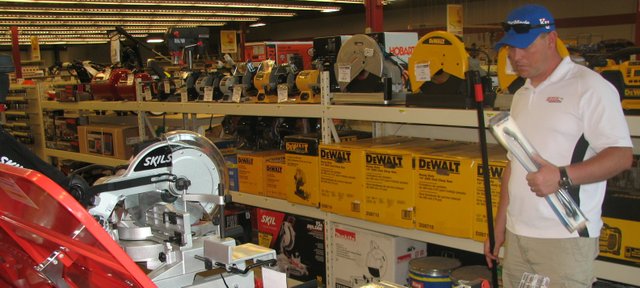 Photo Gallery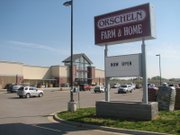 Orscheln opens in Basehor
Basehor's new Orscheln Farm & Home store opened Monday, April 2, just more than two years after its building's previous occupant, the Wolf Creek Marketplace grocery store, closed.
Erik Wallace had hoped to make this trip on Saturday, but when he walked up to the Basehor Orscheln Farm & Home store it was still closed.
But on Monday morning, the doors were open for the first time. It was worth the wait, he said.
Walking the store's aisles at about 11 a.m., Wallace held in his hand a list of supplies to buy — created with help from his wife — including a squeegee and an electrical cord. But he also took some time to peruse the store's selection of power tools.
"I like these kind of stores," Wallace said. "You can get everything in here."
As his son Alexander, 2, played with the knobs on some welders on the shelf next to their cart, Wallace admitted that the trip was about more than checking items off a list for him, too.
"I'm a mechanic," Wallace said, "so this is a like a toy store to me."
Orscheln opened for business at 8 a.m. Monday, and any of the customers who trickled in during the morning said they'd had their eye on the store for a while, said district manager Dwight Isringhausen.
"Most of it's been, 'We've been waiting for you to open,' " Isringhausen said.
Traffic into the store had been slower than it might be if it had opened on a weekend, he said, but that gave the staff a chance to ease into their responsibilities, after working long hours over the weekend to get the store ready.
The store will have a grand-opening event about a month from now.
"We'll be fine-tuning it for the next 30 days," Isringhausen said.
Tonganoxie resident Grant Watson, who stopped into Orscheln Monday morning to pick up a tire spoon tool, said he'd been watching the building while driving past on U.S. Highway 24-40 for a while now, waiting until it was ready to open.
Upon finally walking inside, he said he was impressed by the store's wide selection.
"I hope this one lasts longer than the grocery store," Watson said of the Wolf Creek Marketplace grocery store that formerly occupied the building at 15256 Wolf Creek Parkway before it closed in February 2010, after about seven months in business.
Todd Nicholson, who lives south of Basehor, said he hopes the store sticks around, as well.
"It seems very nice — I mean, big and clean, and people are friendly so far," Nicholson said.
Though on Monday morning he was just checking out what the store had to offer, laughing with his 4-year-old son Nate as they looked at cowboy hats, boots and BB guns, he said the store should be a good source of lawn and garden equipment for his family.
Basehor resident Jerry Kavanaugh said the store would be his go-to spot for gardening supplies, as well.
"It's close to where we live, and it's got a lot of the stuff we're looking for," he said.
The new store will be open from 8 a.m. to 9 p.m. Monday through Saturday and 10 a.m. to 6 p.m. Sundays.